Online Journals, Catalogs, and Bibliographic Tools at UNISG: How to Use Them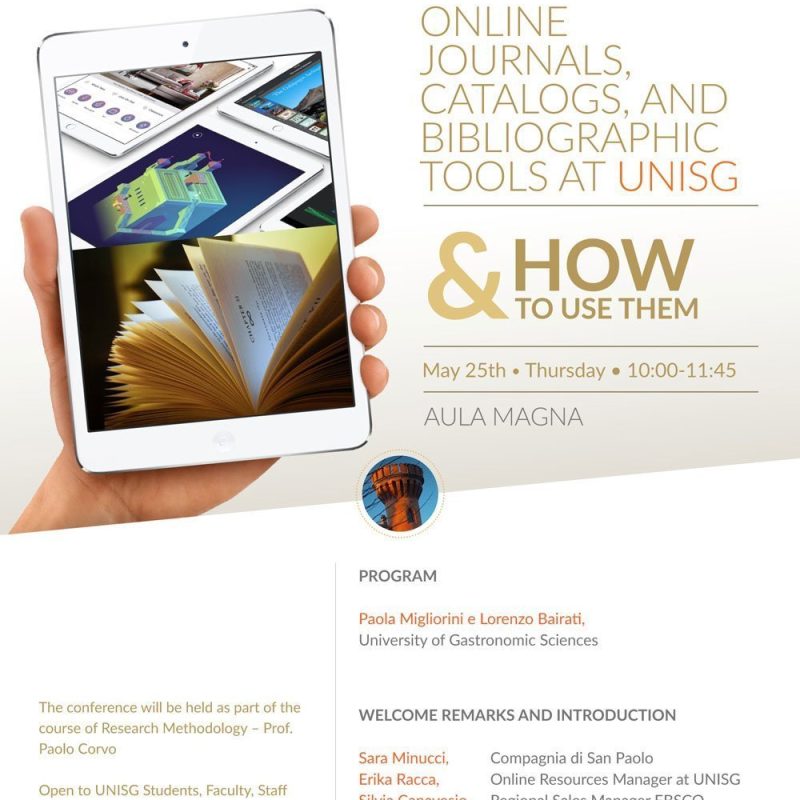 Please save the date, Thursday, May 25, 10am, in the Aula Magna of the University, for a seminar on the e-journals, e-books, catalogs, and other online bibliographic resources of UNISG Library.
In the technical session (in English) the service will be presented and explain how you access resources, perform searches in the catalogs and how to make a bibliography. The seminar is open to everyone and participation is especially recommended to those who decided to do research work or thesis.
For further information: Prof Paola Migliorini and Prof Lorenzo Bairati
---
Program
Welcome Remarks and Introduction
Paola Migliorini e Lorenzo Bairati, University of Gastronomic Science
Presentation
Sara Minucci, Compagnia di San Paolo
Erika Racca, Online Resources Manager at UNISG
Silvia Canavesio, Regional Sales Manager EBSCO Information Services
The conference will be held as part of the course of Research Methodology– Prof. Paolo Corvo
Open to UNISG Students, Faculty, Staff and Slow Food Staff
---
Italiano
Il giorno Giovedi 25 Maggio alle ore 10:00 nell'Aula Magna dell'Università si terrà un seminario di presentazione delle riviste elettroniche e risorse bibliografiche online di Ateneo.
Nella sessione (in lingua inglese) di carattere tecnico verrà presentato il servizio e si illustrerà come si accede alle risorse, come si eseguono le ricerche nei cataloghi e come si fa una bibliografia. Il seminario è aperto a tutti e la partecipazione è specialmente consigliata a chi si appresta a fare del lavoro di ricerca o di tesi.
A cura dei Prof Paola Migliorini e Prof Lorenzo Bairati