Book presentation: "The Everyday Makers of International Law" by Tommaso Soave – with Tommaso Soave (author) and Lorenzo Bairati (discussant)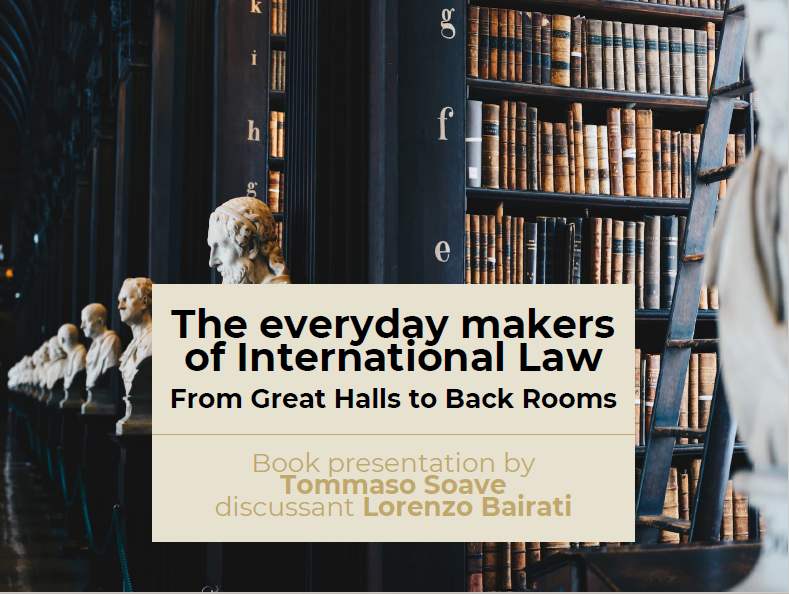 The Everyday Makers of International Law offers a unique insight into the inner workings of international courts and tribunals. Combining the rigor of the essay and the creativity of the novel, Tommaso Soave narrates the invisible practices and interactions that make up the dispute settlement process, from the filing of the initial complaint to the issuance of the final decision. At each step, the book unravels the myriad activities of the legal experts running the international judiciary¬—judges, arbitrators, agents, counsel, advisors, bureaucrats and specialized academics—and reveals their pervasive power in the process. The cooperation and competition among these inner circles of professionals lie at the heart of international judicial decisions. By shedding light on these social dynamics, Soave takes the reader on a journey through the lives, ambitions and preoccupations of the everyday makers of international law (see the attachment).
IN ENGLISH

AULA MAGNA

TIME:

5,30pm

 – 

6,30

pm

CFU 0,15
We have adapted the organization of Seminars and Conferences in respect of the government health provisions to guarantee strict compliance from all those involved in the academic experience (students, teachers, administrative staff), in an effort to safeguard everyone's safety.
We invite all students to participate.
Recorded conferences are available by clicking here.