Book Presentation: Fast-Food Law – Lorenzo Bairati (author), Barbara Pasa (discussant)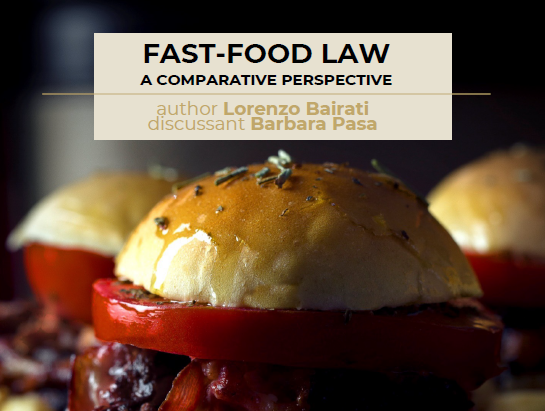 The evolution of fast-food governance is increasingly revealing of how global food systems law will develop. At the same time, fast-food rules vary depending on the legal system in which they are situated. This book compares the regulation of fast food in the European Union and the United States, analyzing the interactions between internal and external, public and private and global and local regulators. In particular, the regulatory aspects related to health (affected by the consumption of junk food) and the sustainability of fast-food products are analyzed from a comparative perspective. One chapter is dedicated to regulatory challenges related to the burgers and their substitutes, a case study emblematic of the divergences and convergences between the EU and US legal systems. The conference will shed light on the various legal issues raised by fast-food production and consumption.
We have adapted the organization of Seminars and Conferences in respect of the government health provisions to guarantee strict compliance from all those involved in the academic experience (students, teachers, administrative staff), in an effort to safeguard everyone's safety.
Recorded conferences are available by clicking here.