Unisg Research Day 2019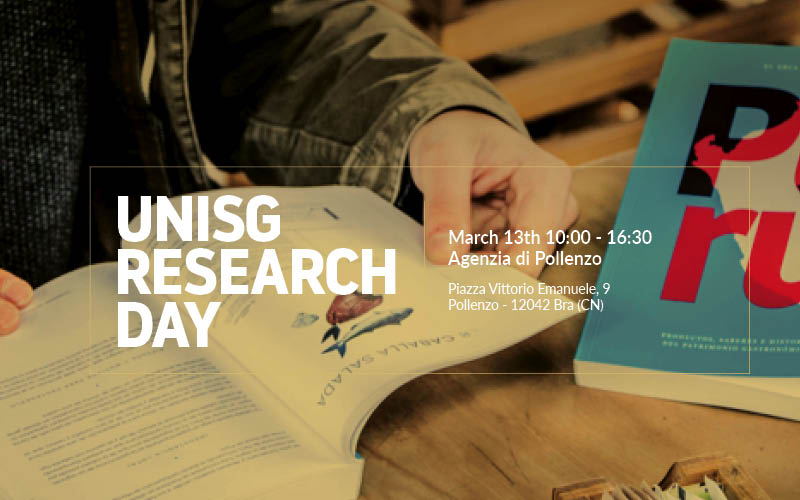 On March 13th, the University organizes the UNISG 2019 Research Day in the Sala Rossa, Albergo dell'Agenzia di Pollenzo.
During the Research Day, this year in its second edition, the University discusses the importance of doing research and presents its results and new projects.
The conference will be attended by UNISG research and teaching staff, students and representatives of the companies and associations that collaborate with the university.
In particular, this year the UNISG Research Day focuses on how to better include teaching in the research process.
The main speakers of the Research Day 2019 will be:
Renata Soukand, Associate Professor at Università Ca' Foscari Venezia (Italy) "Research and Narrative of Local Gastronomic Knowledge" read more >
Alison McManus, Assistant Professor at Durham University (United Kingdom) "Research-Led Teaching & Teaching-Led Research: Value and Practical Application" read more >
Programme
---
RESEARCH ALLIANCE
Morning Session | Sala Rossa, Albergo dell'Agenzia
10:00
Welcome coffee and Poster Session
UNISG Ph.D. students and researchers
10:30 – 11:00
Presentation of Research Day 2019
Research Office UNISG
Greetings from the Rector
Andrea Pieroni, Rector of University of Gastronomic Sciences
UNISG 2019 Research Report
Luisa Torri, Research Director of University of Gastronomic Sciences
11:00 – 12:15
Research and Narrative of Local Gastronomic Knowledge
Renata Soukand, Associate Professor at Università Ca' Foscari Venezia (Italy)
Research-Led Teaching & Teaching-Led Research: Value and Practical Application
Alison McManus, Assistant Professor at Durham University (United Kingdom)
12:15
12:30 End
Lunch | Academic Tables (reserved only)
12:40
Food for inspiring ideas – Staff of the Academic Tables
Afternoon Session | Sala Rossa – Albergo dell'Agenzia
13:30
Coffee at Sala Rossa Albergo dell'Agenzia and Poster Session
UNISG Ph.D. students and researchers
14:00
Round Table: "Research alliance: synergy between business and university, teaching and research"
Participants: Alison McManus, Renata Soukand, Andrea Pieroni, Luisa Torri, Companies of the UNISG Network
Mode

rator: Michele Fontefrancesco
15:15
Hackathon on the Research Alliance
Result Presentation
Conductors of the table groups
Research Day Conclusion
Luisa Torri, Research Director of University of Gastronomic Sciences
16:30
End
Learn about our programmes…
---