In the complex period in history that we are living through, in which the pandemic is wreaking havoc on the world in a climate of disintegration, uncertainty and despair, I have often found myself reflecting on a model that might aggregate and organize the participation of people in a way that lasts. How can we transmit a sense of belonging in times of physical distancing? And what are the lessons we can learn from the objective difficulties we are addressing at this moment in time?
I have found the answer in the concept of the community. In my lifetime, I have had the good fortune to come into contact with many great communities in the most diverse and often remote corners of the world. This has allowed me to acquire direct experience of the solidity and creative force of a form of organization that is effective from the social, cultural and economic points of view.
In our history, the concept has characterized the associational essence of Terra Madre, for example. Right from the outset, we established food communities as the basic structures of the network. At the Chengdu Congress, the urge to change Slow Food's skin through a slow process of community-building was the strongest, most innovative signal of this. True, the process has been slow but more recently, it seems to me, it has gathered renewed strength. Just a few days ago, for example, a Slow Food community was established in Partinico, in Sicily, on land confiscated from the mafia.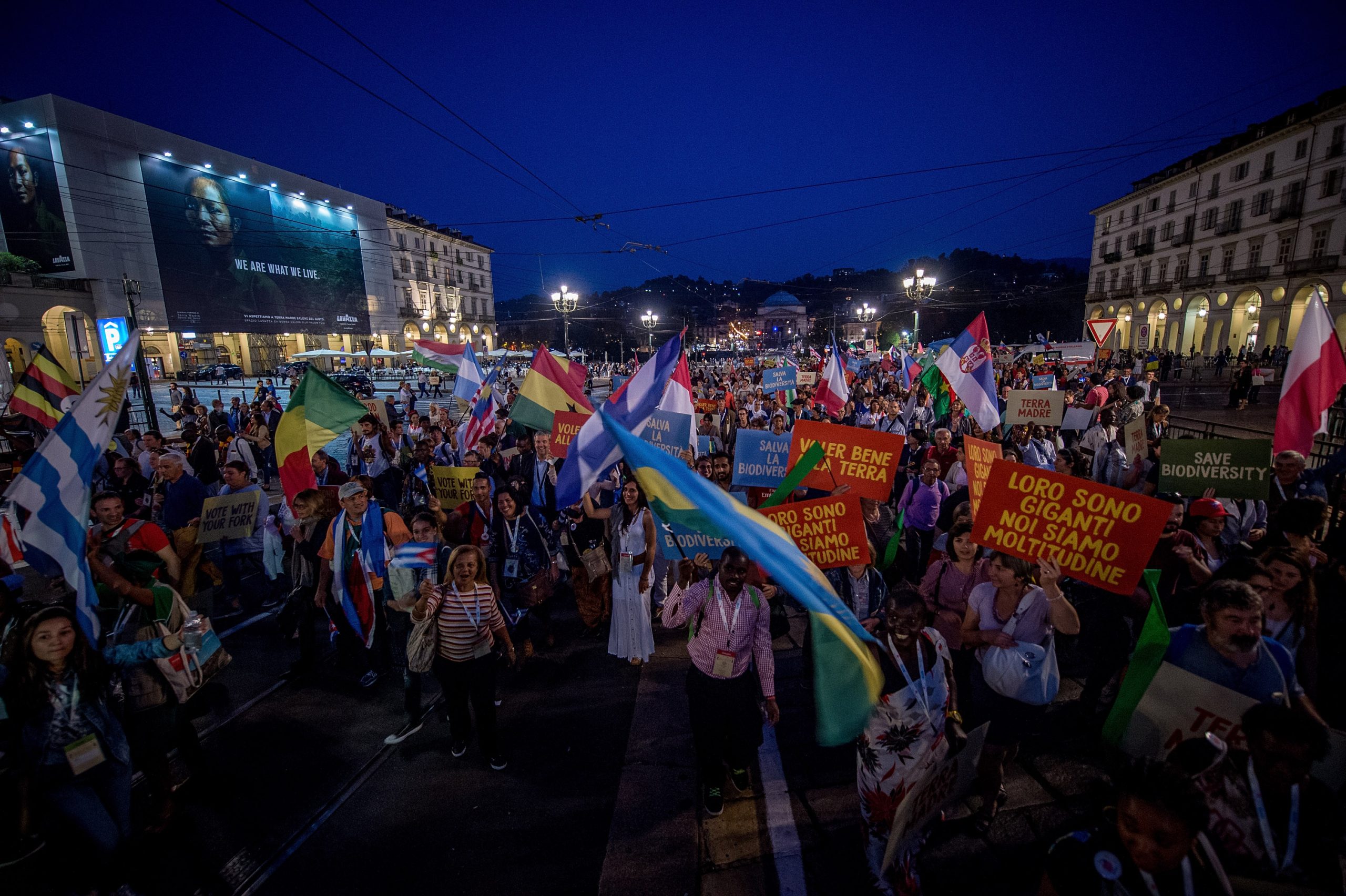 However, I'd like to dedicate this reflection more specifically to a community that, for me, stands for "home" more than any other. I'm referring to my community in Bra, made up of all of you who, in various capacities, part of Slow Food and the University of Gastronomic Sciences. People, places, memories, special emotions that I can return to after every journey, where my sense of belonging is so strong it is sometimes difficult to distinguish my own individuality. I hope that you will perceive the conviction and faith that I'm placing in the potential of this thought so that you can adopt it yourselves and practice it in your everyday lives.
Let's begin with the basics: the community is the oldest form of aggregation in history. But the individualism of modern society has caused it to lose credibility and denied importance to fundamental values for the development of human groups in a broad sense, such as cooperation, affective intelligence and "austere anarchy."
Albeit not widely practiced, of the three cooperation is the most commonly utilized. Its aim is to ensure a world that is promising for its inhabitants and to override the dogma of competitiveness that is typical of our actions today. Communities are, in my opinion, the places most suited for undermining this logic, which generates anxiety, frustration and a constant sense of inadequacy. Working from the bottom upwards, from the minor everyday changes shared by the community, it is possible to weave a fabric suitable for universal human fulfilment.
Affective intelligence allows us to feel ourselves part of a community of destiny that shares a common experience, albeit respecting each single individuality. In this way, we totally undermine the concept of competitiveness, replacing it naturally with affective security, which is, in turn, capable of reducing performance anxiety. Communities are also the places in which it is possible to practice reciprocity, in which we are allowed to make mistakes without being excluded, in which there is no demand for constant performances. Their members, moreover, have care for the common good at heart. In our case, this means "Good, Clean and Fair" food for all and embraces everything connected with it: the environment, social justice and intergenerational relations. Identification with a common project generates a spontaneous network of relations and proximities that cannot be impaired from the outside. It is a much more effective bond than any formal adhesion imposed from above.
"Austere anarchy," in turn, makes for a conceptual reversal of the organizational model that has characterized our society for more than a century now. It is the overriding of conservative tendencies and rigid patterns of governance: a way of thinking and acting freely that fosters diversity and individual fulfilment, without compromising common wellbeing.
Let us not forget that the true force of the community is that the whole is much more than the simple sum of the parts. And that the totality of individual interests alone can never create a better world. Value resides in union and there can be no wellbeing without it being for everyone.
Unlike in other structured organizations, in the community participation is practiced through presence and commitment, and planning skills are born of cooperation and conversation. The organization is fluid and changes according to needs and the support individuals can offer at any given moment.
Does all this correspond to our reality? Are our organizational needs, rigid budget rules and governance mechanisms compatible with these suggestions? Good ideas and good practices are slow to develop and what counts is embarking on a virtuous pathway. It takes patience to adjust the aim of practices that we too often regard as untouchable. Each of us possesses the potential to generate change: we must take upon ourselves this consciousness which is, at once, a responsibility.
I am also keen to remind you of two sentiments that, I believe, must always accompany us as we live together inside this community of ours: compassion and social friendship. I hope that, for young students in particular, these tools will always characterize your experience of life, wherever you live it.
Compassion makes us considerate human beings, capable of intercepting the joys and suffering of others and, in part, making them our own. Social friendship, in turn, is capable of transcending national, social, economic and cultural affinity. It helps us overcome all the blindness that causes us to shut ourselves away in our small corner of well-being: the whole universe becomes our horizon.
I am confident that, with a compassionate spirit and fraternal bonds, our actions are bound to lead to a fairer society.
On the basis of these premises, I believe that the community of which you are members and virtuous representatives is not only just an organizational model but also a truly ethical and also political way of approaching the world. The vision that I have decided to share with you and with which I identify a great deal constitutes an answer for me, even in the difficult times we are living through.
Obliged to physically distance and forego the conviviality that we love so much, we all feel an acute need for "good company." Only in this way can physical distance remain as such without leading to isolation and depression.
To consolidate this sense of community and uphold it even today, a methodological and political tool that can come to our aid is dialogue. We find ourselves obliged to postpone many of our engagements and give up part of our everyday normality, accepting a slower pace of life. In doing so, dialogue can prepare us for the period of regeneration that is awaiting us. This is the time to open up to a free conversation, hence to reciprocal enrichment.
At the same time, the rigid logic of numbers may force us to make painful choices. What has happened and is happening was not only predictable but is revealing itself with unprecedented violence. This harsh reality may induce us to think that such ideas about sense of community, fraternity and affective intelligence are the result of abstract sermons and a surreal vision. Against that, the only realistic and practicable option would appear to be a rough pragmatism, which sometimes involves ruling with force. It is with this duality of thought that we are obliged to live, coming to terms with it and preparing ourselves for the difficult challenge of change.
Only if we all feel part of this variegated reality will we be able to grasp the opportunity of the challenge ahead of us. For I believe that an absence of problems is not a source of happiness: on the contrary, addressing difficulties and stepping up to the plate to solve them, fighting to change an unjust situation, creating alternative narratives–this is the essence of happiness.
We thus have to embolden our desire to think of a different future, a new humanism that puts solidarity back at the center as an inalienable value of our existence. I am firmly convinced that a community as diverse as ours provides fertile ground for growing new practices and new habits which, thanks to the contribution of each one of us, make the possibility of a sustainable, fair future more concrete.
Within our community, diversity manifests itself through the experience of those who have expended years of work for the movement, but also with the creative force of young 20-year-olds who are looking to the future. Many of us live here permanently, others are here temporarily. We are women and men who can and must interact more: opening dialogue among different groups is a good and intelligent thing to do.
I thus invite you to renew your way of acting and participating to discover the pleasure of achieving a new aggregation. I hope we can all identify with the common will to change our individual behaviors positively, promoting a different model of civil living together and an integral approach to things. Ready, in on our own daily lives, to promote a new paradigm.
Now it is up to you to carry on the reflection and I hope my suggestions will be of help. Feel yourselves an integral part of the Bra community to which you belong, and which has welcomed you in a variety of ways. Involve the people who are part of your daily lives and build a dialogue that helps us to come out of this period more human and more mindful.
Let us uphold our sense of community and practice it every day. May this be our aim, and let us guard and implement it in the year to come.