Unisg Study Trips
Study trips at UNISG are learning tools that give students unique access to knowledge about the world's gastronomic cultures.
---
---
The focal points during these travels revolve around comparisons between opposites: of scale and geography (small-scale versus industrial, rural versus urban) and of production (new trends and mass production methods versus artisanal traditions).
Covid: In light of the travel restrictions implemented in response to the pandemic, all study trips that cannot be carried out will be compensated and replaced by virtual study trips. This project will include a variety of activities, which have been adapted for remote learning for the most part, and will involve artisanal producers, restaurateurs, business experts, and start-ups. The program may also include tastings of typical products and cooking lessons. When and wherever possible, each student will also receive a Unisginabox [activity kit] containing a selection of gastronomic products which support any experiential activities conducted remotely.
---
---
The study trips highlight these opposites that characterize different gastronomic cultures, transmitting a deeper understanding to the students. To do this, they generally develop around chains of production, processing, distribution and consumption, with visits, workshops, guided tours and tastings.
---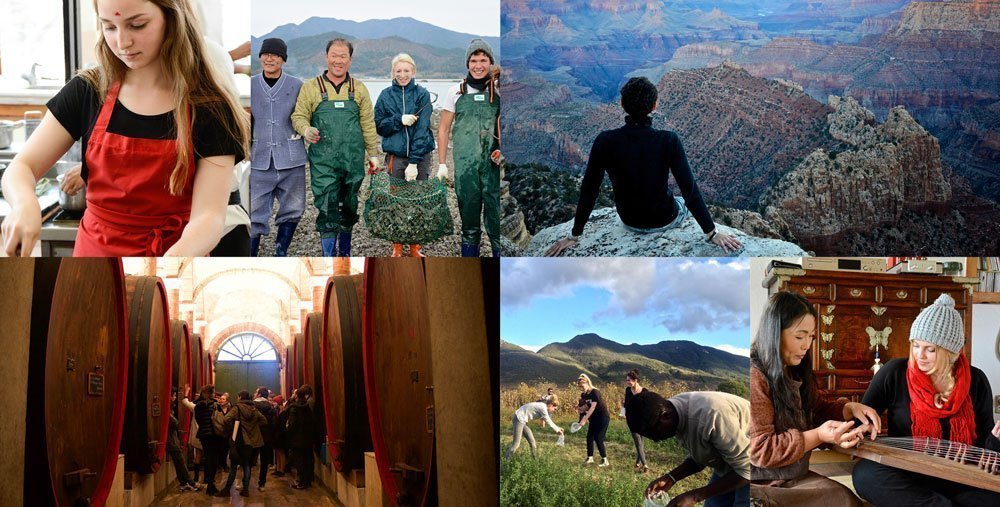 ---
These learning experiences are focused on products, which are always studied within their surrounding context. The itineraries are designed so that similar attention is paid to small-scale producers and production on an industrial scale. This makes the trip a highly effective way of understanding the gastronomic culture of a region or a country, inevitably the result of migrations, hybridizations and the dynamics of the global market.
---
---
The students' classroom studies are integrated into the trip, making it possible to study food cultures and processes through direct, personal experience in the field. The trips represent essential opportunities for synthesis and a realization of the holistic ambition that characterizes UNISG's vision and activities.
---
---
These experiences are constructed around the local communities, which grow stronger through the process of opening up to travellers, while also enriching the host students with a new understanding and awareness. It is within this space of negotiation that the Pollenzo project develops, creating hybrid forms of tourism and travel that prioritize the unique nature of traditional cultures and recognize food as a primary point of interest.
---
---
Through the study trip project, the university also contributes to the development of new forms of collaboration and interaction between restaurateurs, producers, local communities and leaders in the host regions, promoting a model of cooperation between stakeholders on an international scale, underpinned by food.
The university's objective is also to dialog with leading food market players active in the visited area. Only in this way can the trips offer students the chance to develop a complete vision of the complex economic, cultural and demographic dynamics that characterize the areas visited and are always in constant evolution.
Following the educational experience, students will be able to develop an autonomous capacity to analyze the phenomena observed during the trip, thereby becoming promoters and bearers of innovation and protagonists of constant cultural exchanges.
---
---
© UNISG Instagrammers' photo credits: @chandrakunal @dariaratiner @dinamyte @itsnotjustaboutfood @gianlucabitelli @mattgramaglia ©raimondo cusmano ©eleonora mazzola