Spring course in Kobe, Japan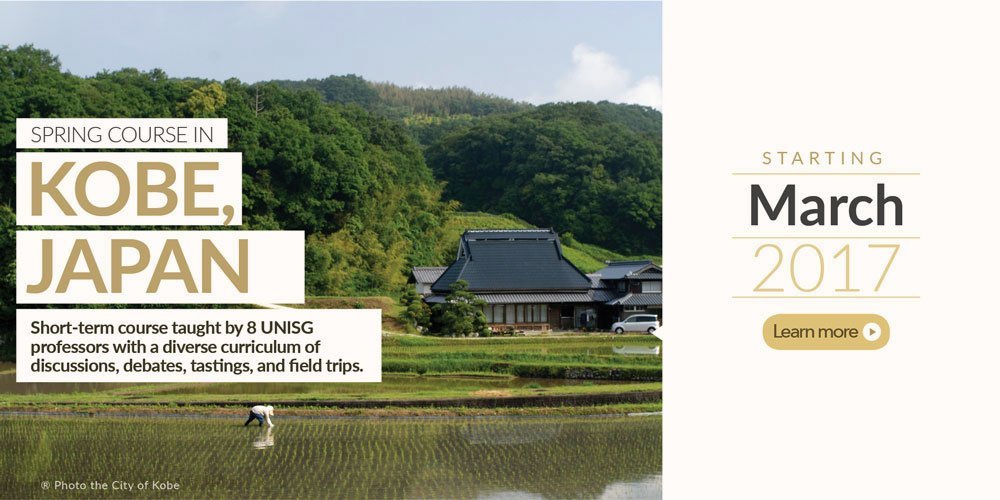 Hosted by  the City of Kobe and Slow Food International Japan Office, The University of Gastronomic Science is organizing a short-term spring course in March 2017.
8 professors from UNISG will come to Kobe from Italy with a diverse curriculum of discussions, debates, tastings, and field trips.  With the class size limited to 25 students, the course is assured to be personal and intimate learning experience of holistic knowledge about global food issues.
---
Covered Subjects
The law of food and the regulations for food quality: a comparative survey on Geographical Indications
The philosophy of taste and the epistemology
Sensory Analysis: an introduction
The sense of taste : a probe for health
Botany and Ethnobotany: wilderness for the contemporary consumption
Migrations and cuisine: the influence of mass movements through the last two centuries
Ritual food and festivities: a comparative anthropological approach
Food and Health: new frontiers for a tight relationship between taste and medicine
Field Trip in Kobe City
---
Lecturers
Simone Cinotto
Michele Fino
Remi Ie
Gabriella Morini
Nicola Perullo
Andrea Pezzana
Andrea Pieroni
Cesare Poppi
Luisa Torri
---
Application deadline: February 3rd 2017
February 27, Mon 〜 March 5, Sun
Kobe University, KOBE, JAPAN
Language: English
Fee: ¥114,000 (accommodation fee not included)
Group: 25 participants maximum (Assessed with application sheet)*
*If there are more applicants than 25, they will be assessed and informed.
---
How to apply?
Download the application form from the course's official page and send the pdf file via Email or FAX by the due date below.
---
Contact
City of Kobe Gastropolis Kobe initiative
m.watanabe@slowfood.it
Tel. 078 3220520
Fax 078 3226076