Alumni Meeting – Homecoming

Join us for the UNISG Alumni Homecoming! 
SEPTEMBER 15th 2023
---
What will be going on:
12.30: Accreditation and lunch @ Tavole Accademiche
14.15 – 16.00: One-to-one Gastronomic Speed Networking
netwɜːkɪŋ. the practice of creating and nurturing relationships with other professionals, a tool to broaden one's professional horizons by sharing common interests and perspectives.
16.30 – 18.30: A taste of UNISG: pick your favorite workshop among the below 4
New (academic) roles for new (research) frontiers: a laboratory and some kitchen tools. 
by: Carol Povigna, Nahuel Buracco e Matteo Bigi – 

Alumni

 and coordinators of  the Pollenzo Food Lab.
In this 

Homecoming

, the Pollenzo Food Lab – the laboratory dedicated to the study of gastronomic transformations – opens its doors and hosts exceptional professors: the current students and their applied researches.
Three working groups of students from various courses at the University will share their experience in different yet complementary fields: product and process innovation at the European level; food waste prevention through menu design; food education and taste training in schools.
The meeting will be an opportunity to share some ongoing project results on topics that challenge contemporary gastronomy and, at the same time, to relive the time of a Pollenzo class. And if there were any doubts… yes, we will get our hands dirty and yes, there will be a tasting of what we prepare (no matter how strange and experimental!).
Play, sense, and reflect!
by: Hilde Weiser Unisg Alumna and Ph.D. candidate in food and meal science, focusing on sensory science and sustainable eating amongst adolescents, at Umeå University in collaboration with the Arctic Graduate School (SE). 
Welcome to taste, feel, eat, and talk – how do our senses influence an eating experience? What is the taste of a sound? How does a colour smell? In this workshop, we will explore what happens when we actively attend to our senses and the impressions they give us when we engage with food. What does that tell us and what does it mean? This is an opportunity for you to play, sense, reflect, and challenge the usual way of thinking about food 
Cheese and Wine tasting: Cheeses from Piedmont (and beyond), and wines from itinerant winemakers 
by: Hannah Morrow, Alumna and founder at "Explore Authentic Food" – Cheese+Culinary Tastings, Events & Excursions; with Federico Ulutürk and Pietro Fasola, 

Alumni

 and founders at "Vite Sparse".
What better way to kick off Slow Food's bi-annual "Cheese" festival than a trip down memory lane with a cheese and wine tasting at UNISG? Piemonte has a special selection of cheeses within Italy because of its unique terroir and influence in close proximity to France and Switzerland. Lucky for us, Bra's resident Cheese shop "Formaggi Giolito" provides a wide selection of local, national and even international cheeses.  UNISG alumna and international cheese professional Hannah Morrow will guide us through a tasting of Piemontese cheeses. We'll assess and discuss flavor, texture and regional intricacies and pairing combinations with the wines from Vite Sparse, a social entrepreneurship project based on itinerant vinification by two other UNISG 

Alumni

, Federico Ulutürk and Pietro Fasola
Nature's Pantry: unleash your inner forager
by: Alessandro Di Tizio – forager, food scouter and R&D team member at Restaurant Mirazur***  
Ready for a Gastronomic walk in the countryside of Pollenzo? Let's hunt for Mother Nature's hidden treasures in an adventurous food quest to get to know better about the spontaneous edible goods that this territory has to offer. And of course, you will not be alone! Alessandro Di Tizio, forager, food scouter and R&D team member at Mirazur will guide you and teach you how to recognize lip-smacking surprises to feed your souls and bellies without forgetting the most important rule: to respect nature and its bountiful gifts!
19.30: Cheers at Cheese! The reunion moves to Bra at the UNISG Stand @ Cheese for an easy party with drinks and music.
How to apply
Fill in the Guest Form below with all the info about lunch, and with the full list of lectures that you can choose.
Send it back to alumni@unisg.it
Deadline: Sept 3rd
Please note: the deadline will be strict due to organizational reason

Join us for the UNISG Alumni Homecoming! 
SEPTEMBER 17th 2021
---
What will be going on:
12.30: Lunch together at Tavole Accademiche
14.00-15.30: "Deepening uncommon food topics":  choose one lecture you want to follow among those that will be offered by our UNISG PhD student – find the list on the Guest Form
How to apply
Press the blue button here below, you'll find a Guest Form with all the info about lunch, and with the full list of lectures that you can choose.
Fill in the guest form and send it back to alumni@unisg.it
Deadline: Thursday, Sept 9th
Please note: the deadline will be strict due to organizational reason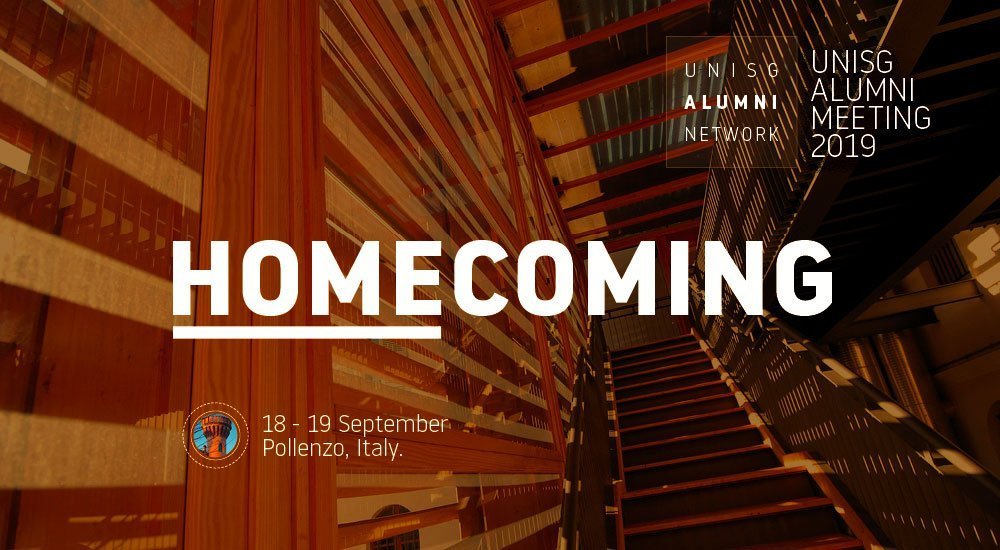 Kick off a new phase for our professional alumni network and grow the University's community together.
It's as easy as coming home and as exciting as starting something new.

Join us for the UNISG Alumni Homecoming! 
Do you remember the sound of your steps echoing from the ancient walls of the university? The scent of food and knowledge following you wherever you went? The friendships that started within classrooms and became part of who you are today?
On September 18th and 19th, it is time to create new links at the University of Gastronomic Sciences! Meet other alumni, connect and enhance the community by introducing yourself as the professional you have become since graduating and celebrating the work of others with networking possibilities, presentations, workshops and – of course – food!
Program
---
Wednesday, 18thSeptember

09.30: Registration and welcome coffee
10.30: Participation to the Academic Year Opening
Institutional welcome of the Freshmen with Carlo Petrini, the Rector prof. Andrea Pieroni, professors and staff.
12.30: Lunch at the Tavole Accademiche
14.30: Alumni speaker corner – meet your fellow Alumni
Let us know who you are what you are doing and how we can contact you – but above all: is there an issue you have in your everyday professional life that you think our Alumni network could be helpful with? Is there a topic you'd like to discuss with the rest of the network?
Please use this template to give us this information – we'll have the chance to discuss it during the event! 
18.00:  Preparing our "Merenda Sinoira" together
Now that we know each other better, let's get our hands dirty! We'll be working in groups to prepare our Merenda Sinoira together, taking care of different preparations from field to table and featuring "Alumni products".
Are you a food producer? Indicate it in the guest form and let us know what you would like to bring to be showcased and tasted!
The day is over! Are you on a budget? Bring your camping facilities and stay at the Gastronomic Society in Bra (limited availability – check the Guest Form).
Thursday, 19thSeptember

09.30: Welcome coffee
10.30: Let's meet Kristen Rainey, Global Procurement & Resource Utilization Manager di Google Food
We'll have the chance to hear more about the programs of Google Food, and about their projects to reduce food waste worldwide. Time for an interactive Q&A will be  given.
12.30: Lunch at the Tavole Accademiche
14.30: Networking session – UNISG professional network. Let's discuss our real problems and find innovative solutions to put in place future collaborations.
Remember about having told us which topic you'd like to discuss with the network? Here's the moment to do it. You'll be divided into the most heterogeneous groups in order to find solutions to your professional life issues through our network.
19.30: End of the activities – dinner and closing party at the Società Gastronomica in Bra
The students will cook for you – so you just have to worry about partying! Let us know if you play an instrument or if you are a DJ // line –up is still open!
Please note: the main language of the event will be English
Costs and Registration
---
Cost of the event: 50 euros
The fee includes:  Welcome coffees and coffee break, lunches and dinners, activities during the event.
Remember that the fee doesn't include your accommodation
How can I pay?
You have two payment options:
Bank transfer
Motive: YOUR NAME SURNAME_ Alumni Homecoming 2019
Beneficiary: Università degli studi di Scienze Gastronomiche
Bank: Banca Sella – Agenzia di Pocapaglia
IBAN: IT60O0326847040052706534300
BIC: SELBIT2BXXX
PayPal
---
Deadline for application: September 1st
To confirm your participation, please write to alumni@unisg.it attaching the following:
Payment proof
---
Come together to grow our international network of alumni !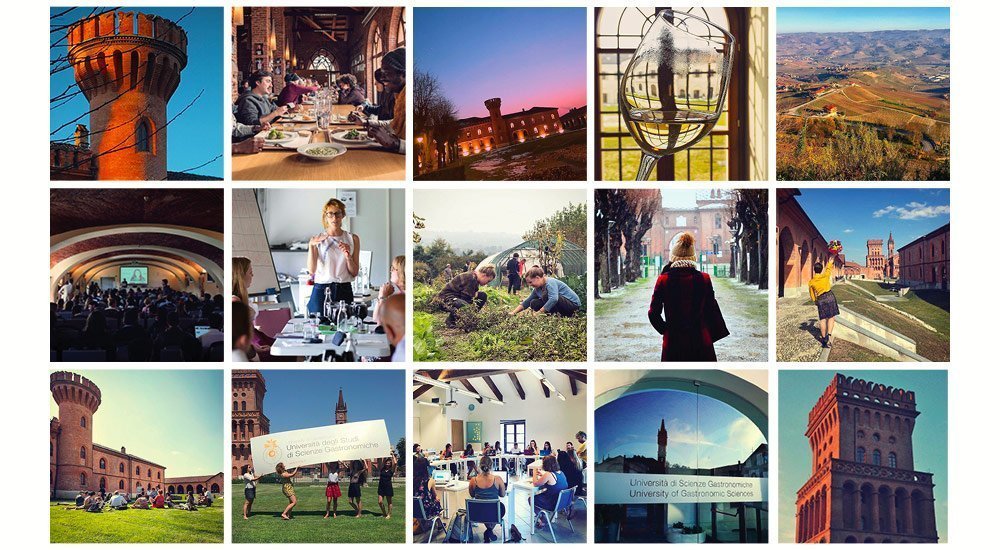 ---