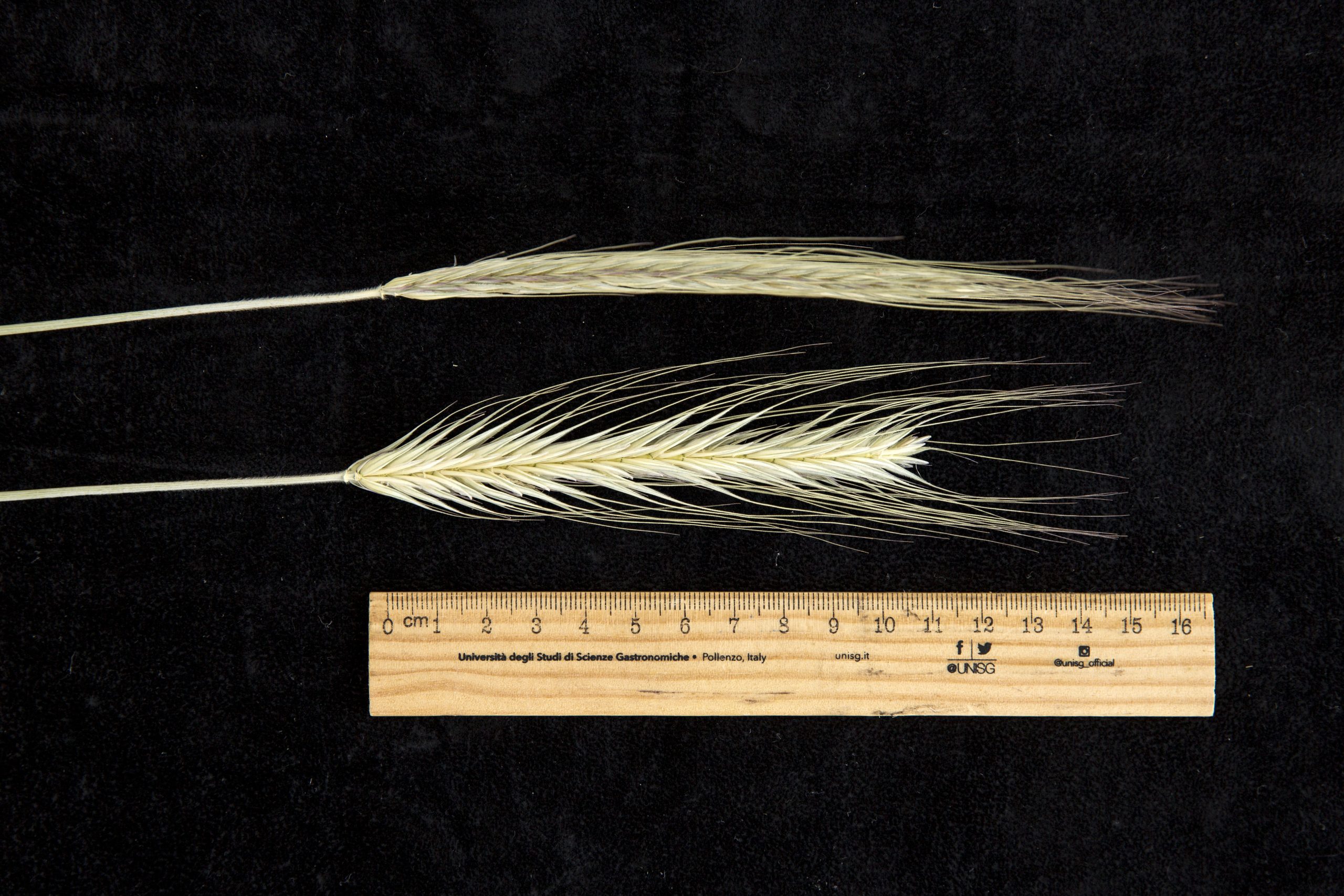 The project, which UNISG leads, aims to realize actions designed to protect and enhance agricultural and food biodiversity.
Preliminary information
---
SCIENTIFIC MANAGER: Paola Migliorini
PARTNERSHIP: University of Turin – DISAFA (Italia), Associazione Asci Piemonte (Italy), Associazione Antichi Mais (Italy), AIAB Piemonte (Italy)
DURATION OF THE PROJECT: 12 months (February 2021 – February 2022)
FUNDING INSTRUMENT: Piedmont Region Agriculture Department
MAIN INTERDISCIPLINARY RESEARCH AREA IN UNISG: Environment
SDGs: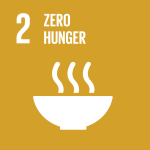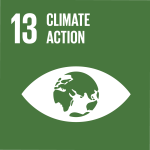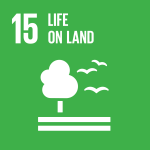 Description
---
In Piedmont, the characterization and conservation of ancient plant varieties have always been activities carried out by Bodies, Associations and farmers which, also thanks to funded projects, have contributed to the enhancement of agro-biodiversity, to the contrast or to the slowing of the genetic erosion that many local varieties were necessarily facing. First of all, the results and knowledge acquired from the numerous activities carried out on the regional territory by different realities need to be harmonized and disseminated.
The project involves the carrying out of the following activities:
Animation and dissemination of the regional network of agricultural and food biodiversity through the creation of:

catalog fields with plots and educational gardens;
technical meetings in the field;
meetings with consumers;
a publication and a video illustrating all the project phases and the genetic resources taken into consideration.

Cycle of lectures on agrobiodiversity at high schools.
Conference aimed at celebrating the agricultural and food biodiversity day and at animating the regional biodiversity network.
Project's result
---
Publication
A publication on the protection and promotion of Piedmontese biodiversity and the activities of the GERMONTE3 project 
Field visits:
In spring and summer 2021, 10 meetings were held in the field to exchange opinions between producers and technicians and to make consumers aware of the conservation varieties of wheat, corn and vegetables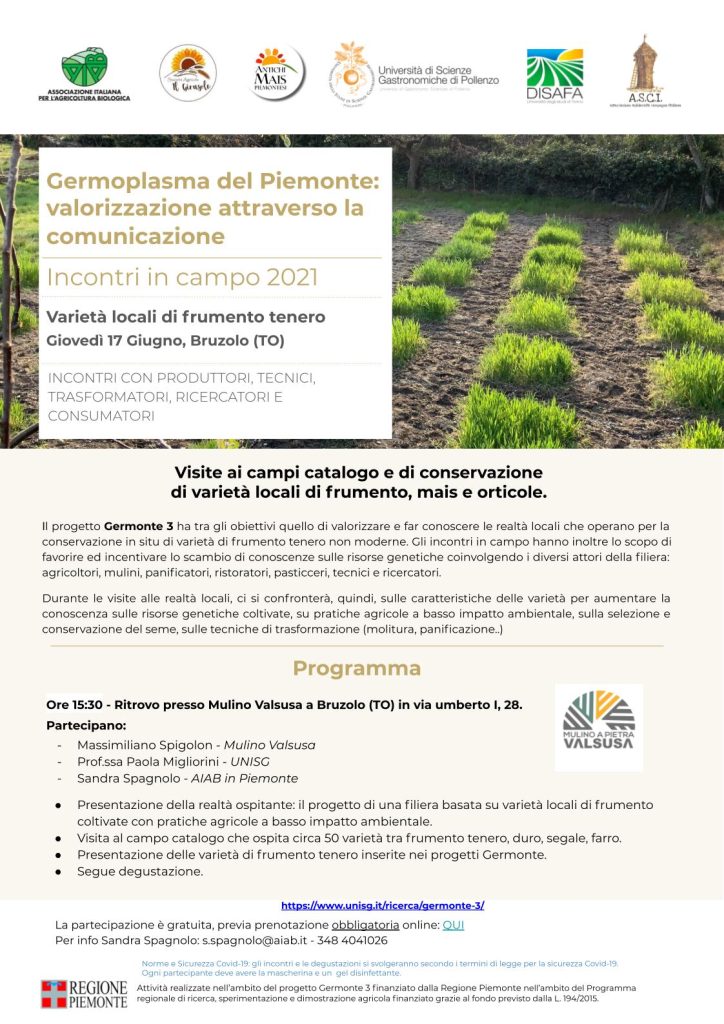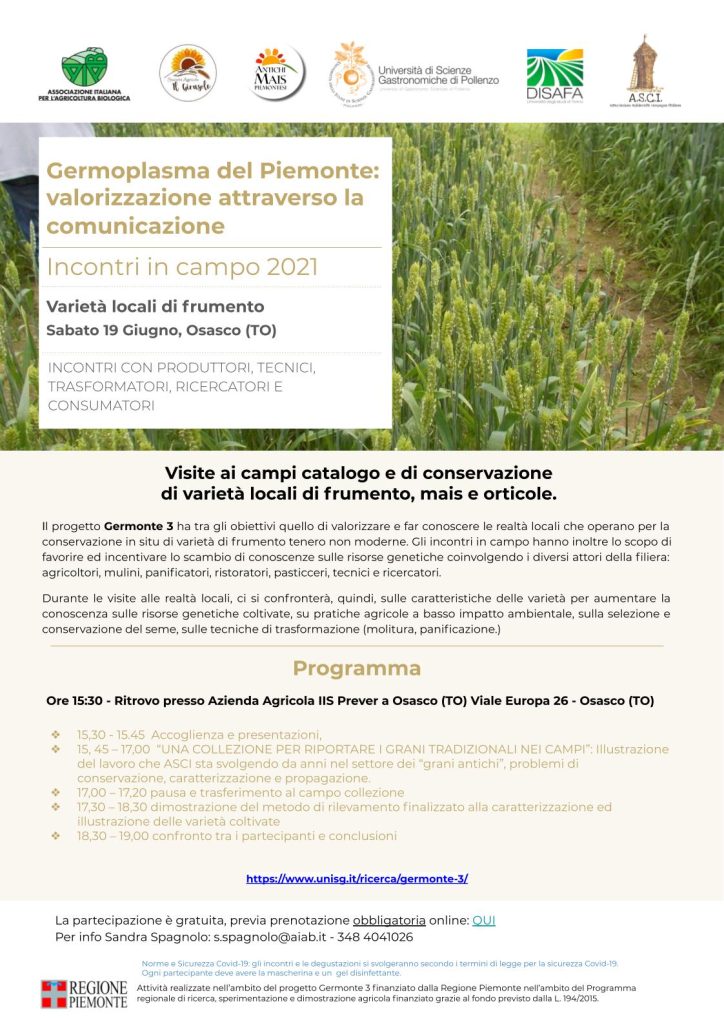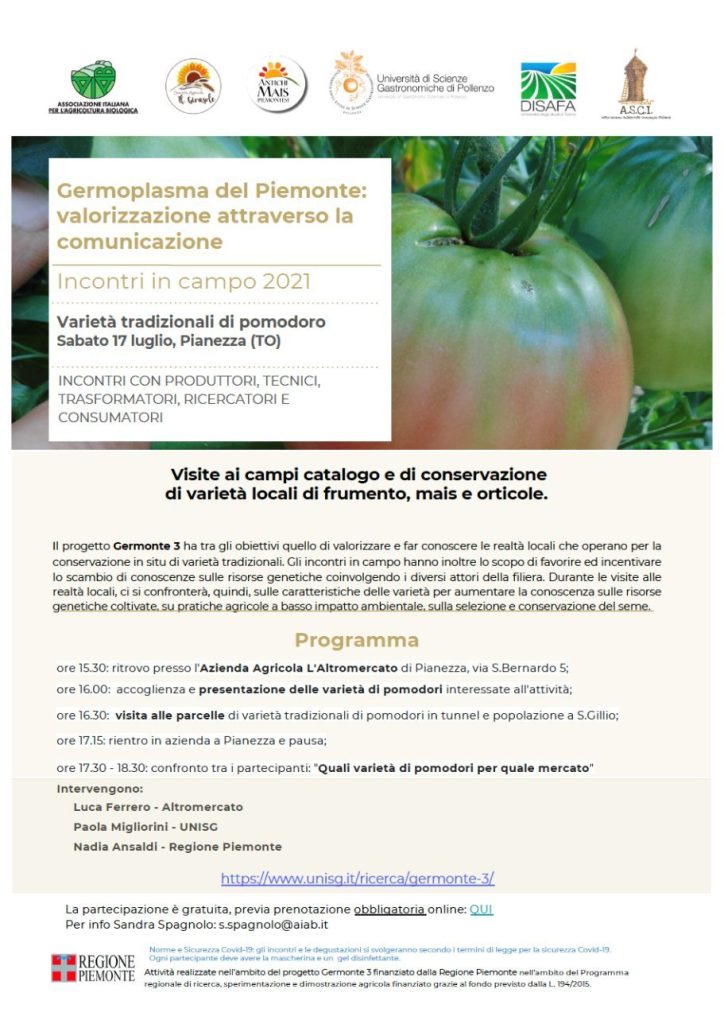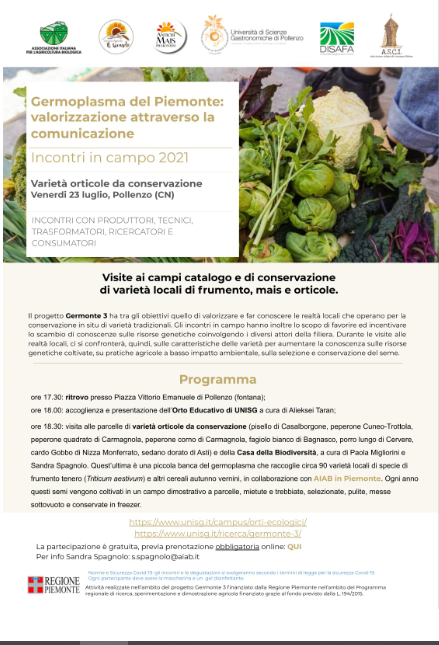 Videos
4 videos were made by the Cinema Lab of Pollenzo to illustrate:
– The activities of the Piedmont region and the RDP aimed at the protection and promotion of biodiversity
– The conservation varieties of wheat and the Piedmontese actors
– Horticultural conservation varieties and Piedmontese actors
– The conservation varieties of corn and the Piedmontese actors
Celebration for the National Day of Biodiversity of Agricultural and Food Interest of the Region
Saturday 21 May Pollenzo at the University of Gastronomic Sciences is celebrating the "National Day of Biodiversity of Agricultural and Food Interest of the Piedmont Region ". A day of meetings, exchanges of seeds and knowledge in a festive and social context, a program full of activities to raise awareness of the cultural and genetic heritage of Piedmontese agri-food biodiversity.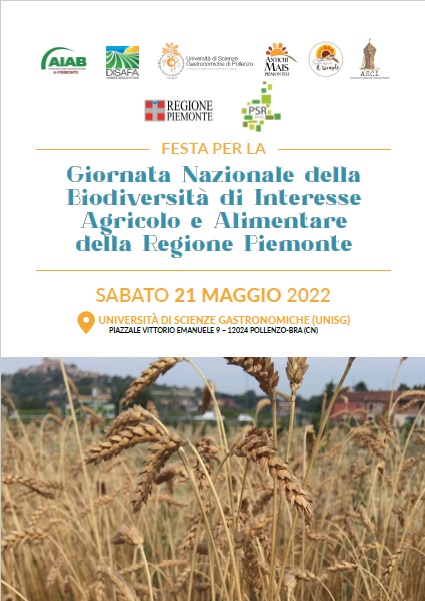 – L'agrobiodiversità nel PSR 2014/2022 e nel PSR 2023/2027. Quadro normativo e introduzione al progetto Germonte3 – Nadia Ansaldi e Stefano Dolzan, Regione Piemonte
– Presentazione risultati del Progetto Germonte3:
Pubblicazione, incontri in campo e video – Paola Migliorini, UNISG e Sandra Spagnolo, AIAB;
– La normativa sulle sementi delle varietà da conservazione Riccardo Bocci, Rete Semi Rurali
– Le varietà di riso da conservazione in Piemonte – Manuele Mussa, Az.Ag. Una Garlanda di Stocchi F.lli e C.
– Il Progetto Forni&Fornai – Karen Lopez e Matteo Calzolari, Comunità del Grano dell' Alto Appennino tra Bologna e Firenze
– Le aziende che hanno partecipato al progetto Germonte3:
Az. Agr. Cascina delle Grazie, Agridelta, Franco Andrea, Ostenga Organics – Associazione Antichi Mais Piemontesi;
Az. Agr. L'Altromercato, Az. Ag. La Tadea, Az. Ag. Savarino, Az. Ag Reale – ASCI;
Carlo Gaddo – Az. Agr. Il Girasole;
Giovanni Faggio, Carlo Arcostanzo – Il Papavero Rosso;
Massimiliano Spigolon – Mulino Valsusa.