Master in Food Culture, Communication & Marketing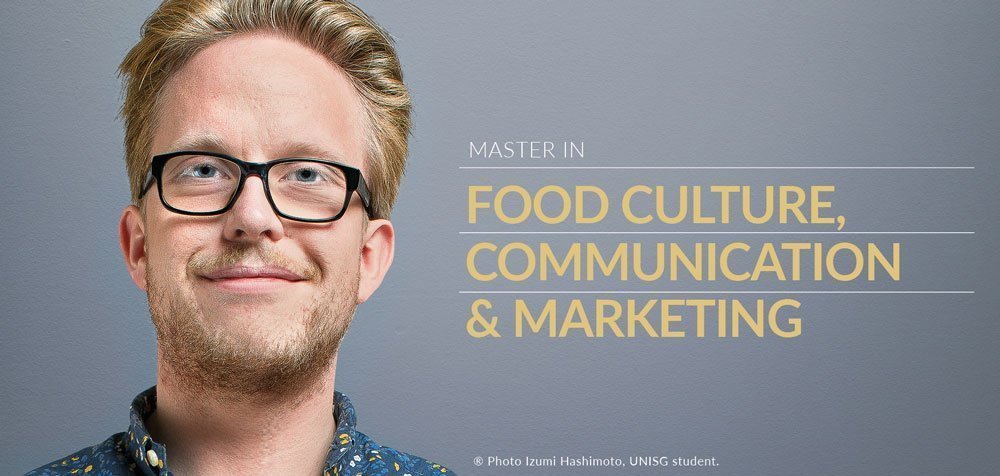 Designed to prepare future food industry professionals to be key figures for the business development strategy of any food-related company.
They are skilled in food culture and able to market, communicate and develop high-quality products while working in F&B management, product selection, communication or corporate social responsibility.
Four macro themes will be explored during the program: the concept of high quality, food communication, sustainability and marketing.
Classes, tastings, visits and study trips plus meetings led by renowned international food critics.
---
Group: maximum 25 students
Required attendance: 80%
Language of program: English
Application deadlines
First round: November 6, 2017
Second round: December 6, 2017
First ranking list: November 10, 2017
Second ranking list: December 11, 2017
Start date: January 24, 2018
---
Three areas will be explored during the Master program:
I – High-Quality Products
Students explore a contemporary definition of quality, through classes, tastings and meetings with Italian and international personalities who represent remarkable cases of quality food production and food criticism.
II – Communication & Sustainability
Students learn how to communicate and articulate a contemporary storytelling approach to sustainable food through case studies, workshops and meetings with professionals working in innovative food communication.
III – Marketing
Students are introduced to business strategy and the marketing of high-quality food in addition to the social implications of food consumption through workshops and case studies that portray innovative and sustainable business models.
As part of UNISG's educational design, students within the master program participate in a series of study trips in order to learn about a variety of food products within their environmental, economic, and social contexts. The purpose of these visits is to ensure a 360-degree understanding of gastronomy, from taste, nutritional value, and molecular composition, to the cultural and social knowledge that comes from direct experience within a production setting. Study trips take place both in Italy and other European countries, and provide students with hands-on experiences in production and promotion. Particular attention is given to the differences between industrial and traditional realities along the entire production chain, including distribution and communications. Academic and logistical planning is managed by staff tutors, who also accompany the students during this phase of the program.
The Career Office supports students by helping them design their career project through the "Cultivating Your Career" program, structured around collective workshops and individual coaching.
Two Career Days per year (one international and one Italian) are organized by the Career Office to help students:
seek potential internship and job positions

start developing their own network of contacts

gain a better understanding of different professional sectors to start or continue their career

discover what UNISG gastronomes do once they graduate
Finally, students and graduates have access to the Career Office website where they can find job ads (up to 250 per year) news, contacts and updates.
The university fee for the Master program in Food Culture, Communications & Marketing is €16,500.
The fee includes:
all academic activities, including conferences, tastings, and seminars
study material (in digital format)
all study trip expenses as programmed, including travel, food and lodging
participation in all UNISG and Slow Food events as included in the Master program
civil insurance coverage (during academic activities)
private insurance policy covering urgent healthcare for non-European students
4000 credits on your lunch cards to be used at UNISG Academic Tables (corresponds to €400)
access to Career Office services (food sector job placement)
Note: Fees do not include the cost (around €90) of obtaining an Italian "permesso di soggiorno" (residency permit). Non-EU citizens must apply for a permesso di soggiorno at the post office, or at the Al Elka Foreigners' Service, within 8 working days after arriving in Italy.
> an undergraduate or first-level degree
> proficiency in written and spoken English
Important Information
Students from all countries are eligible to apply. Note that for all educational documents (diplomas, degrees, certificates, transcripts) issued outside of Italy, official translations and an Italian consular accreditation (the "Dichiarazione di Valore") must be obtained by the student and submitted to the Registrar Office. The original document must be handed in to the Student Registrar Office no later than the first day of the program and will be kept by the university for the duration of the program. (The consulate may choose to send the document directly to UNISG.) The application to UNISG must be completed through an Italian consular representative. Applicants should contact their local Italian consulate as early as possible to ensure adequate time for all consular processes.
In order to apply to the Master in Food Culture, Communications & Marketing, candidates must:
register online
complete a motivational test
upload the documents for the application dossier (for detailed information please read the announcement below)
The University of Gastronomic Sciences does not have an early admissions process. However, in some cases, and for justifiable reasons, it is possible to request an individual early admission by writing to[email protected] and the Program Director.
Please explain your situation and attach supporting documentation. An early admission request can only be submitted after the first deadline.
---
For further information: [email protected]