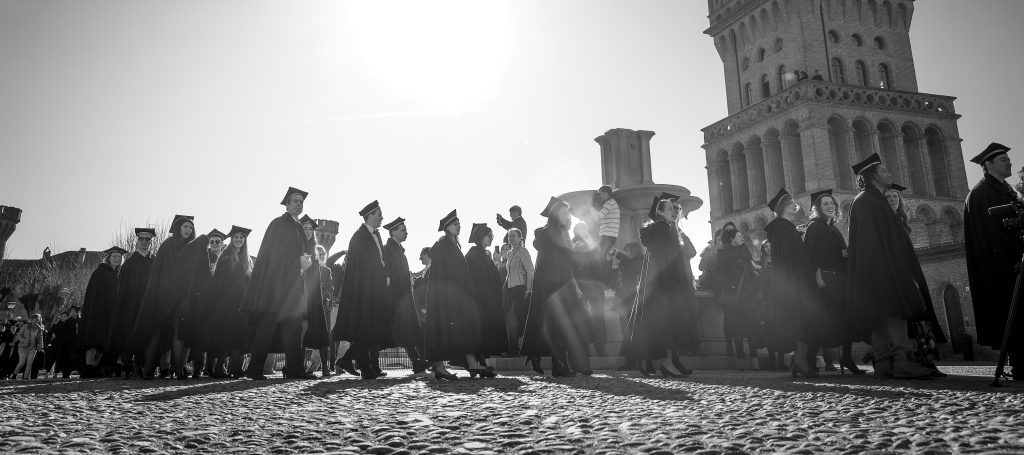 25 students from the master programs in Food Culture and Communications will be presenting their theses in order to receive their diplomas, they come from Colombia Ecuador, Germany, Italy, Japan and The United States; and here is a full list of their names and thesis title
Two students are graduating from the Master in Food Culture and Communications:  High-Quality Products.
Giulio Antonio Pagni from Italy: "L'evoluzione del linguaggio del vino 'Discorsi sul vino' ".
Lorenzo Aaron Fleishhacker from Italy: "Daily grind: the story behind your cup of coffee and the case for Slow-er Coffee".
Other 23 students are graduating from the Master in Food Culture and Communications: Representation, Meaning, and Media.
Estefania Andrea Baldeon Clavijo from Ecuador: "Do You Feel Offended When I Call it Mozzarella? A review of name, shape and transformation process regulations of Mozzarella cheese, in relation to traditions".
Jessica Breuker from Germany: "The tale of local food the consumer need for storytelling and the consequences for Food Assembly Germany".
Chiara Ceddia from Italy :"Vegetariani vs Onnivori".
Kirt Jerry Dennis from the United States: "Design for Food and the Double-edged Nature of Storytelling".
Henna Mary Garrison from the United States: "Using Mindfulness to Explore the Future of Food".
Giulia Giraldo from Italy: "Food as art…why not? Exploring possible answers leading up to the virtuous case of chef Massimiliano Alajmo".
Michela Granella from Italy: "Collective traditions vs. Collective decisions: the effect of the economic-strategic interests on preserving  tradition and heritage of Italian GI products".
Giulia Guazzotti from Italy: "I eat alone. Do you?".
Rowan Alexandra Hallett from Bermuda Island (USA): "A Tale of Two Wolves: A Gastronomic analysis of  "Craving" in the Media".
Katherine Margaret Harris from the United States: "Savouring a World of Authentic Cuisine:" A Gastronome's Investigation of Representation and Meaning in Food and Travel Journalism".
Maya Eva Hey from the United States: "Messy Matter: How Performative Acts of Fermentation and Material Agency "Do" Food".
Francesca Mastrovito from Italy: "Unwrapping ravioli -analysis of the recipe through its linguistic disclosure".
Luca Passet from Italy: "L'apicoltura in Piemonte: la qualità come chiave per rilanciare un settore".
Alex Sergio Peirano from Italy: "To what extent has the rise of Italian cuisine's authenticity in America contributed to changing its food culture?".
Phillip John Picard from the United States: "Communication of Culture: Traditionalism, Marketing, & Behaviour of our habits and trends in the home and marketplace".
Urmila Ramakrishnan from the United States: "What's in an immigrant apprentice? Dissecting the duality between unpaid immigrant labor and the restaurant industry".
Martin Dieter Reiser from Germany: "At the frontline of fighting climate warming: the untapped potential of restaurants."
Lindsey Ann Roberts from the United States: "Forging ahead towards health and wellness: Life after Ballymaloe Cookery School and exploring our food system and connection between chronic disease".
Benedetta Salsi from Italy: "Would Scots say "AYE" to Lambrusco Wine? An Analysis of Communication Strategies in the Wine Industry: The Case of Lambrusco".
Lauren Elizabeth Scott from the United States: "Enough with Umami, Let's Talk About Wonder: The Sixth Sense of Food Dishing Up Tales of the Table".
Ginna Paola Solorzano from Colombia: "Wine Labels and the Purchase Assemblage".
Matteo Villabo from Italy: "Artisanal Beer, the new Italian Spirit".
Megumi Watanabe from Japan: "The Effects Produced By Political Act Of A Restaurant – Cases Study Of Food Waste Projects".