Enrico Mentana: "The future is yours: Demand the right to work"
Rahul Antao: "Cultivate human relationships"
Maurizio Pallante: "Put your education at the service of ethics"
Rector Andrea Pieroni: "Here are our five maxims for your future: Keep reading, Keep writing, Raise your voice, Be different, Be empathic"
Carlo Petrini: "Don't get discouraged if you make a mistake. And be generous, in order to be happy and make others happy"
---
The seventh Graduation Day at the University of Gastronomic Sciences in Pollenzo, held on Friday March 9, was bright with spring sunshine.
The guests of honor—UNISG alumnus and International Fund for Agricultural Development (IFAD) consultant Rahul Antao, La7 news director Enrico Mentana and founder of the Happy Degrowth movement Maurizio Pallante—participated in the ceremony, joining the university's rector, Andrea Pieroni, and president, Carlo Petrini in the procession of students and faculty that led from the courtyard of the Agenzia di Pollenzo to the parish church of San Vittore.
The fourth invitee, Sardinian entrepreneur Daniela Ducato, was unable to attend for family reasons.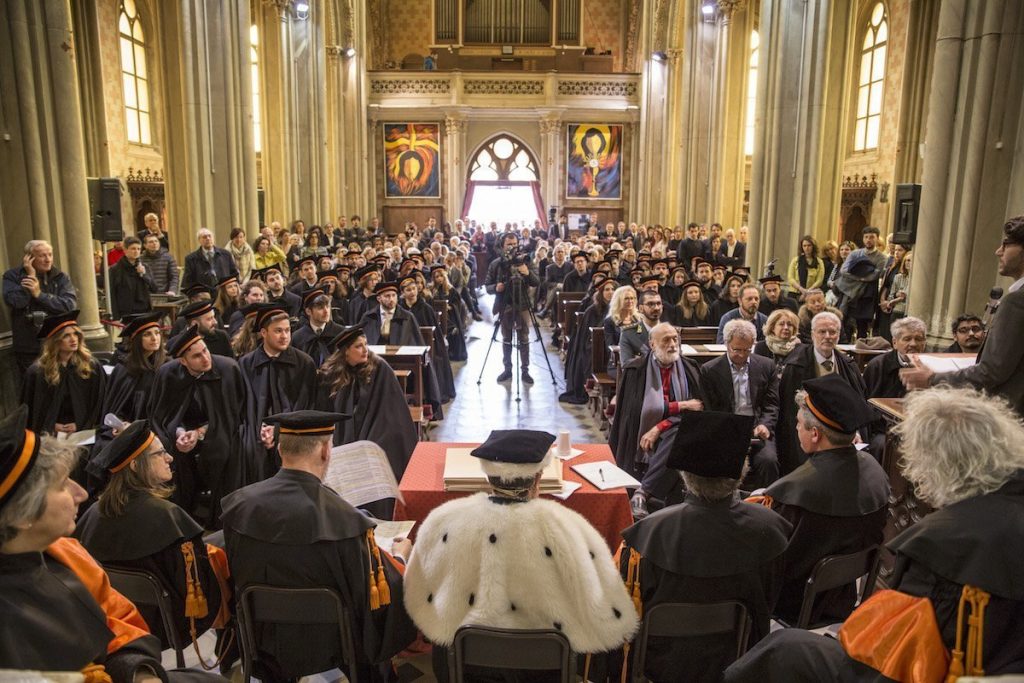 The proclamation of the new Gastronomic Sciences graduates was held in the church, where the guests of honor also spoke about their own studies and careers.
The 52 graduates come from 11 Italian regions (Piedmont, Lombardy, Liguria, Emilia-Romagna, Trentino, Friuli, Tuscany, Marche, Lazio, Campania and Puglia) and from Albania, Switzerland, the United Kingdom, Israel, the United States, Mexico, Brazil and Kenya.
The rector, Andrea Pieroni, opened the speeches, saying: "What can our university give to its students? First I'll tell what it cannot give. The university is not an employment office. But it does give you competencies and skills, tools and methodologies. And it gives them to you not just while you are here at the university, but also in life-long learning.
Here are my instructions for this life-long learning, summed up in five key maxims:
#KeepReading: This means continuing to study and also to listen to the ways of constructing knowledge, like those that rural communities have put into practice for centuries.
#KeepWriting: This is an important process because it is an exercise in critical thinking, a process of reflection with yourself and with others and an exchange of ideas. Keep writing in order to speak less and think more.
#RaiseYourVoice: Our university promotes advocacy, because not everyone has the same access to public expression, and so we must give a voice to those who have none. It's an invitation to fight injustice.
#BeDifferent: The creativity of going towards something or someone who you might even be a little afraid of, a hatred of the obvious and commonplace, the exercise of diversity through a constant dialog with others. We must see things from the perspective of those who think differently from us, even if it bothers us, and fight against conformity. Exercising creativity is the only cure for stupidity.
#BeEmpathic: Going forward you will have to construct networks and relationships. As I noted at the start of my term as rector, the university is like a caravanserai, joined by people from around the world who then set off again on their own journeys. You will be leaving the Pollenzo caravanserai, and maybe you will come back to visit us. We will be here and we will be happy to see you."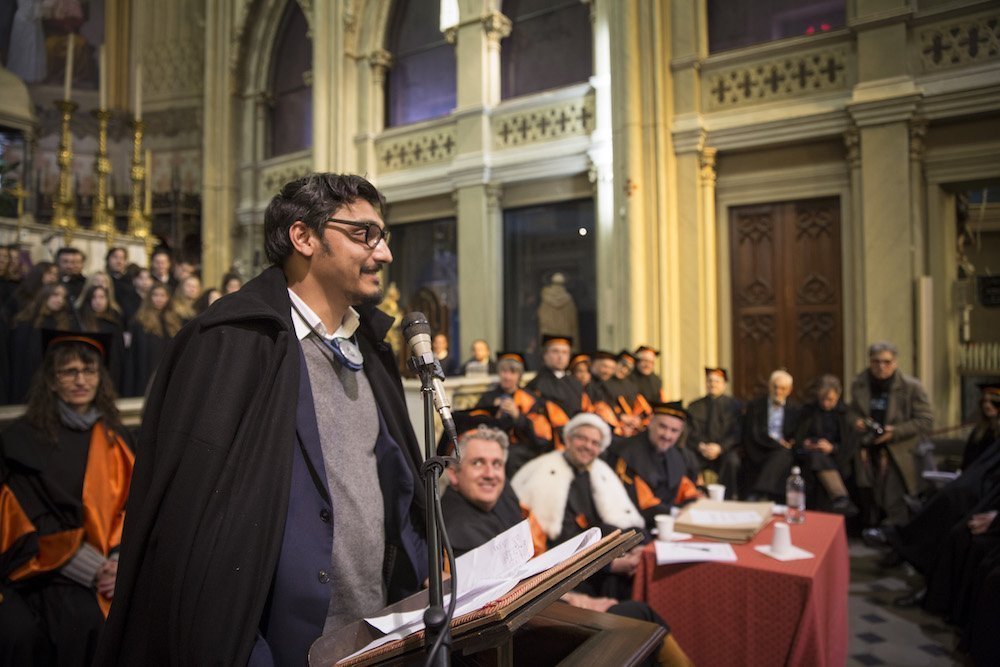 Rahul Antao, a UNISG alumnus from India and a consultant at the Youth Desk at IFAD, said: "I discovered Slow Food, Carlo Petrini and this university by chance, while I was working in a restaurant in Mumbai. When I saw the UNISG website I realized that it was the place for me. When I came to Pollenzo, thanks to a scholarship, I saw my life change radically. Here I went beyond my idea of education: I met farmers and producers from around the world on the study trips, I learned foraging with Professor Pieroni and I fell in love with someone, with whom I'm still together. Here is where I really understood what I wanted to do. Now I work as a consultant for IFAD. Coming back here six years after graduating is very emotional and the message I want to leave you with is to cultivate human relationships."
The news director of Italian television channel La7, Enrico Mentana, took an ironic tone: "You will be asking yourself what I have to do with this important ceremony. The answer is nothing. Because I'm not an expert in the subjects of this university, and with ill-concealed envy I can reveal that I'm taking part in a graduation ceremony without ever having graduated. When I was younger I found myself at a crossroads: to graduate or to become a journalist. I chose the second option and it went well, I have no regrets." He added: "I believe that Italy has a great debt towards the new generations, because these days there isn't even a chance to try out many professions, given that Italian society is constructed for those who already have their place and hinders young people from entering. In my sector in particular it is very difficult: Anyone who manages to get in will be at the bottom of the pile for a long time. This is a country where the hourglass of generational change has been overturned, a country that is withering. The problem is bringing youth into businesses, into universities, because we oldies are analogue, pre-digital, we belong to another century and another culture." He concluded by addressing the new graduates directly: "Real society today speaks digital and you think digital: But the future will not be yours unless you conquer it, and it is a battle that your parents' peers will not take lying down, because of the conservative tendencies in our world of work. Demand the right to work! And I congratulate you for managing to do what I didn't."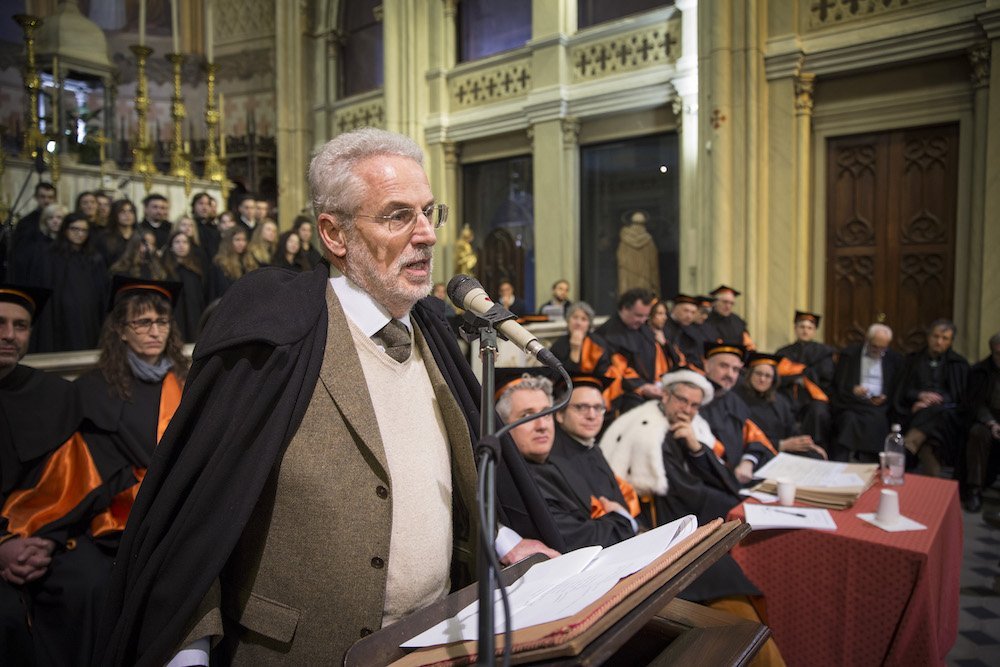 Maurizio Pallante, a teacher, writer and founder of the Happy Degrowth movement, started by telling the students: "I was the first to graduate from university in my family and the graduation ceremony was a moment of great happiness. I studied literature and I became a teacher, but I was interested in helping to bring about social justice for everyone, so I started to delve further into themes like economics and the environment from a scientific point of view. Studying on my own I realized that the main thing to do was to tackle the environmental problems, to stop endlessly developing and to reduce waste. You here are lucky because you have acquired a strong professional education: My message is to put your education at the service of ethics."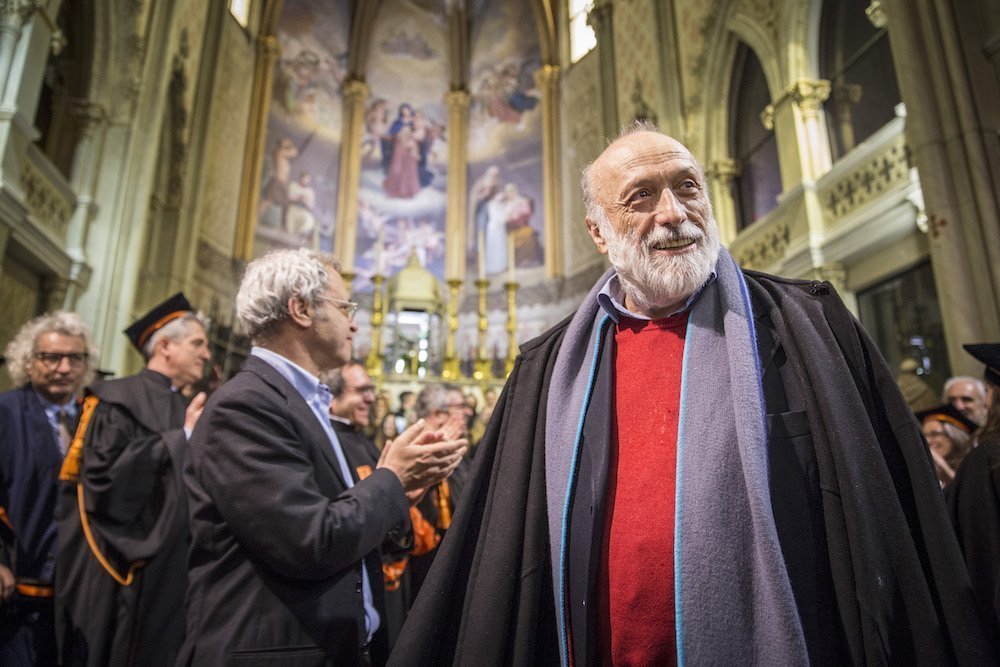 As has become customary, Carlo Petrini spoke last, closing the ceremony with an affectionate farewell to the new gastronomes: "Today you start spring: We are trusting that your creativity will allow you to change the world. You have the obligation to dream, to change reality and to put into practice what you have learned here and make it bear fruit. Never give up dreaming out of fear of making a mistake: Getting things wrong is one of the basic elements for defeating big business. I'll give you a formula for being happy which is not my own, but from Niccolò Tommaseo: 'The happiest of the happy is one who works for others to be happy.' So be generous, and you will be happy."
---
---
Learn more…