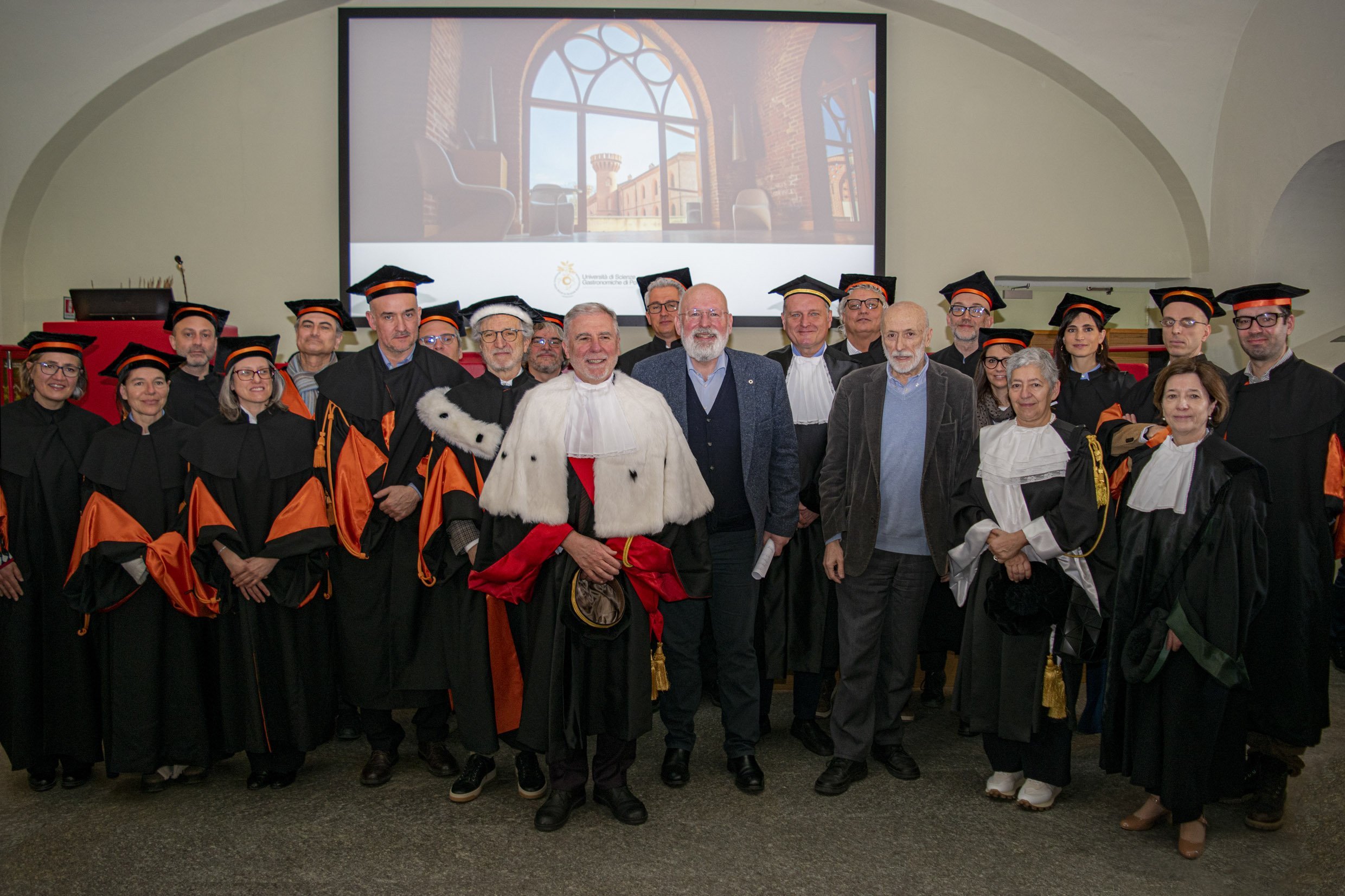 At 10am on Friday March 17, the Sala Rossa of the Agenzia di Pollenzo hosted a ceremony to inaugurate the 2022-2023 academic year at the University of Gastronomic Sciences (UNISG).
The opening remarks were made by the UNISG rector, Professor Bartolomeo Biolatti: "We have all realized how serious the condition of the planet is. We are aware that climate change is a reality, that fossil energy resources are not infinite and that their exploitation is the main culprit for the climate emergency."
"At COP27, researchers were clearly asked to work harder, to make their data available and understandable to politicians. To this end, the Piedmont Network of Sustainable Universities (RUS) has signed an agreement with the Region of Piedmont, through which the universities will offer their help to the regional government to support the process of ecological transition," he explained.
"In 2019, Europe presented the Green Deal, an important process to transform culture and society, with the aim of reconciling the economy, production systems and lifestyles with the planet. The Green Deal will not only lead to a cut in greenhouse gas emissions but also create employment and support and accelerate innovation. Important signs are already coming from the European Commission, with the decision to switch to electric transport by 2035, the measures for home energy efficiency, the transition towards agroecology, the Circular Economy Action Plan, the Green Deal Industrial Plan and so on."
"These decisions are being met with approval from some and perplexity and protests from others, like producers and workers who think they will immediately bring an increased cost of living, an economic crash and a fall in employment. The challenge, therefore, is to plan and carry out the transition at levels acceptable to society, even though we must be prepared to make sacrifices that for some will seem very severe and for others entirely positive, leading to the reduction of pollution and the protection and regeneration of the environment and biodiversity."
"We will be talking about all this with our guest of honor, Vice-President of the European Commission Frans Timmermans, responsible for the Green Deal, who after his speech will be in dialog with the students."
The rector then turned his focus to the new challenges awaiting the university: "We are working to prepare our students to face the challenges of the ecological transition. As part of this, our board recently approved a strategic plan for the next five years. We will be launching new educational initiatives to train the specialists who will manage the approach to the ecological transition in the food sector. In this spirit, we will be starting a new degree course in the autumn, 'International Gastronomies and Food Geopolitics,' new executive masters programs and new training courses for partners and local businesses."
"Last year we entered into an agreement with the University of Turin for a wide-ranging collaboration on education, research and the third mission. We will be launching an inter-university research doctorate in eco-gastronomy and food sciences and cultures, an innovative program which will include various courses of study relating to health, technology, humanities and socioeconomics. In the first year we had 49 applications for six scholarships."
"For 2023 we are putting together with the universities of the Piedmontese University System an alliance aimed at giving a united and concrete response to the many questions that society and businesses have in relation to food issues. This structure will operate at a local and international level to reach the sustainable development objectives by 2030. Due to the different and complementary characteristics of the four universities, the Piedmontese University System is able to offer a sound capital of advanced research competences and infrastructure, as well as a network of collaborations with non-profit entities and institutions and associations of citizens working to save the planet."
"The first important example is the collaboration in the field of 'ecosystems of innovation' which has received €112 million in funding from the National Recovery and Resilience Plan. The project NODES (Northwest Digital and Sustainable), coordinated by the Turin Polytechnic, involves 24 partners, including eight universities in northwest Italy, six innovation hubs, five research centers, three incubators, one accelerator and one competence center. Our university coordinates the seventh spoke, secondary agroindustry. Out of the project's total budget, around €54 million will be used for cascade grants open to businesses, thus multiplying the number of actors involved and the competences incorporated into the system."
"Lastly, in 2022 we founded the International Society for Gastronomic Sciences and Studies, giving a scientific home to all those who work on this subject, even though they come from very different disciplines, competences and cultures. Researchers, teachers, managers, producers, farmers and enthusiasts will enter into a mutually beneficial dialog on the major issues relating to sustainable food. The society will organize scientific conferences which will lead to proposals for new strategies for innovation in the food system. An initial conference was already held with great success during the last Terra Madre."
The UNISG student representatives, Allegra Ghilardi and Yotam Kornmehl, then greeted those present on behalf of the entire student body. Next, the rector introduced the inauguration's guest of honor, Executive Vice-President of the European Commission, Frans Timmermans, who gave an impassioned keynote speech, reproduced here in its entirety (translated from the Italian):
Mr. President, Rector, students and friends of the university, it is a true honor to be here with you today. It is always a real pleasure to speak with people who are passionate about food. And I cannot imagine a better place than Italy, and most of all Piedmont, to do it.
I imagine that everyone in this room loves food. But love and responsibility should form an inseparable partnership. Instead, we are at a point where this link is clearly broken, and we are responsible.
Science tells us that in the next 20 years the average temperature will probably rise by more than 1.5 degrees, 2 by the middle of the century.
This will not only render the lives of our children and our children's children miserable, but will aggravate pressure on nature, water, soil and food security all around the world.
I have said it before and I will say it again here: If climate change is not brought under control today, tomorrow our children will have to deal with wars over food and water.
This might seem incredible to us in Europe, but in reality, the warning signs can already be seen here, in Italy, where the damage caused by the weather conditions in 2021 have been estimated at costing €2 billion. The drought of last year probably caused similar damage.
Scientists tell us that a temperature increase of 2°C will reduce wheat yields by 12% in the southern regions of Europe. This is within a context in which the predictions for 2030 indicate that without intervention, the emissions of the current food system will remain substantially unchanged compared to current levels.
It is therefore clear that without a transition towards sustainability, the direct and indirect shocks will only worsen over time, affecting the planet, citizens and markets. Climate change and increasing scarcities will impact the supply of natural resources, production factors and raw materials, with consequences, for example, on their costs, supply and demand. This will have a long-term impact on food security.
To survive, we must invest in reducing the environmental impact of food systems. The change must take place along the entire food chain and we do not have much time. This is what drove the Commission to present the "Farm to Fork" and "Biodiversity" strategies in 2020. You cannot talk about a sustainable future for Europe without examining the impact of food systems.
Firstly, we must reduce greenhouse gas emissions deriving from food production and consumption. To make Europe the first continent with zero climate impact by 2050, the food system must do its fair share to reduce emissions.
Even though food production is very vulnerable to climate change, it can also offer many solutions. Farmers can store carbon in the soil and in long-lasting products, like construction timber. The roofs of barns and other farm buildings can produce solar energy. Farmers can also be important suppliers of biomethane. All of this is good for the planet and for their income.
Secondly, we must urgently halt the loss of biodiversity, which is occurring at an unprecedented rate. In my country, the Netherlands, we have lost 40% of our biodiversity. Worldwide, a million species are at risk of extinction. The current methods of producing food on land and in the sea are directly and significantly contributing to this loss of biodiversity, but they are also directly threatened. Here, the impact of the EU's food system extends beyond its borders, for example in the case of imports of fishing products, food and feed.
This is why we must halve the use and the risk of chemical pesticides by the end of the decade, why we must compensate those farmers who are doing the most to integrate nature into agriculture and why we must boost demand for their products. The price differential is still too great and we really must make progress with this.
We must also ensure that our soil is healthy. This is a priority: Between 60% and 70% of soil is in precarious condition. There is no agriculture where the soil is dead and has become infertile. Who knows that better than farmers? For this reason, we intend to present a law on soil health that can help change this situation.
Thirdly, our food system continues to push too many consumers to make unhealthy food choices. This has negative effects on people's health and quality of life, and brings considerable costs to society. One out of every five deaths in the European Union can be attributed to an unhealthy diet.
Don't misunderstand me, we have no intention of telling people what to eat. But it is right to inform them about the impact of their choices on their health and the environment in which they live. They need to be informed about the consequences of these choices.
Healthy choices must also be accessible choices. This will be the nucleus of our proposal for sustainable food systems in the course of this year.
Lastly, we absolutely must reduce food waste. If food waste was a country, it would be the third-biggest producer of greenhouse gas emissions in the world!
In the European Union we waste around 20% of what we produce. This is an enormous amount and most of this waste takes place at home. We must urgently put in place policies that can reduce food waste. But mostly what it comes down to is our relationship with food.
I said that the transition must take place along the entire food chain. EU regulations alone cannot fix the relationship we have with food. This is something that must be created from a young age, in families and at home. Nothing works better than inspiring children's interest in food production and preparation.
There are many examples of great significance from all over Europe, like schools that involve children in the management of the canteen and meal preparation, or towns that source food for school, hospital and office canteens from sustainable farmers.
All of this has an important social dimension because for some children the school meal is the first of the day and sometimes the only hot meal. That's why we want to put in place better EU norms for public procurement in this sector.
This transition needs funding, obviously. The Common Agricultural Policy has funds: €387 billion, which should count for something. The CAP also has the necessary instruments thanks to the new eco-schemes.
But the money does not necessarily need to be public. An increasing number of businesses are putting in funds because they know that investments in biodiversity, the soil and health are investments in their future profits. Investing in nature and the climate has a clear economic justification. It's an investment in resilience.
Lastly, we must continue to collaborate with our international partners. Both the climate crisis and the biodiversity crisis are global problems. Sustainability must become an integral part of our trade agreements. This is what we have done in our agreement with New Zealand.
The issue of deforestation must also be tackled in an appropriate way and we will continue to collaborate with the global south on this. The two of us were in Brazil, where President Lula is completely on the same track as us.
We have also adopted measures to bring an end to the practice of banning the use of some chemical pesticides within the EU while continuing to produce and export them (and then importing foods treated with these same pesticides). This is simply not sustainable.
Our objective is to ensure that EU food products become a global standard for sustainability. This is an objective that we presented at the United Nations summit two years ago. When it comes to the climate crisis, often I talk about a global race towards zero. In this case it would be a race towards excellence, towards the creation of the most sustainable food systems possible. In both cases, we will all be winners. I am certain that all of you, students of this university, will be able not only to participate but also to contribute in our shared victory.
I saw you come in, professors, and I said to myself: I miss university and maybe, after this job, I'll go back. I was also at the University of Utrecht in the Netherlands. Being in contact with the students offers incredible wealth every day.
In these times we are really still seeing obscurantism in our society, the refusal of science, with emotions and not facts dictating political choices. This is very dangerous, very dangerous. If we set up a completely crazy opposition to economics and ecology, we will all lose.
A sustainable economy is the only economy with a future. An economy that respects the limits of our planet is the only economy that will bring jobs for our children. If we deny science, if we don't listen to scientists and if scientists and professors don't have a way to communicate with the population, we will all lose. I would just like to say that you professors have an immense responsibility in these times.
It's not that I want to offload my responsibility on to you. I'm working on this responsibility, but also the academic world today should demonstrate that we are people who accept facts, we accept science and we make political choices based on science, based on the knowledge that we have. If we refuse all of this, we will return to an obscurantism that has never led to positive developments.
We need science, we need to reorient our economy, we need new technologies, including in agriculture. Agriculture must be scientific at all levels, starting from farmers, who must be in a position to participate in your research and in the latest technologies.
Yes, it is a time of great changes. We are not only in a climate crisis, we are also in an industrial revolution. History has shown that when there is an industrial revolution, there is always the danger of a small group of winners and a large group of losers.
The political world must put the social in first place, or it will not be able to tackle the industrial revolution nor the climate crisis. What we have to do today is show to our citizens that we will leave no-one behind. This is my responsibility, and also yours.
Thank you for your attention.
Timmermans's speech was followed by a question-and-answer session with UNISG students and the university's Strategic Partners on the topics he had just covered, which evolved into a fertile dialog.
The morning's event then drew to a close with a speech from the president of the University of Gastronomic Sciences, Carlo Petrini, who warmly thanked the European Commission Vice-President.
"I'm impressed by this brief but very important meeting and I would like to thank Frans Timmermans because we have heard the voice of politics that we are all missing. Here we are lacking the politicians who know how to get to the heart of the matter as he has done today. The inspiration that he has given us with his reflections and his responses is what is missing today in this country."
In conclusion, he added: "I want one thing to be clear: In this university, and with the participation of the entire Piedmontese university system, we are fully aware that the most important cards for the years to come are being played in this area. Because in a nutshell, this global food system is both victim and executioner of this situation."
"We have methods of food production that are causing the environmental breakdown we are seeing. I think that the commitment we want to carry forward is to create inside the university system a convergence between the rightful demands coming from the younger generations, the link between science and major political choices and a truly ecological option."