Open Day UNISG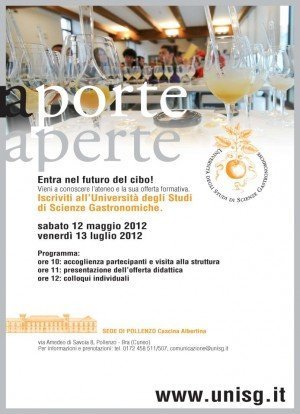 Italiano
Continuano le Giornate Aperte all'Università di Scienze Gastronomiche
L'ateneo apre le proprie porte agli aspiranti studenti ed alle loro famiglie per far conoscere l'attività didattica del triennio, della magistrale biennale e dei tre master annuali.
Lo staff e i docenti dell'ateneo saranno a disposizione per colloqui individuali, per dare informazioni sui corsi, sui servizi offerti, sulle modalità di iscrizione, borse di studio e prestiti d'onore, sulle prospettive che l'UNISG offre a chi sceglie questo ramo di studi.
Saranno inoltre presenti ex e attuali studenti che porteranno la loro testimonianza e potranno illustrare la loro esperienza presso la nostra università.
PROGRAMMA
h 10, registrazione ed accoglienza dei partecipanti nell'aula Gabriella Miroglio, situata nella Cascina Albertina, via Amedeo di Savoia 8.
Seguono visite guidate alla struttura
h 11, conferenza di presentazione dei corsi in Aula Magna
h 12, visite guidate su richiesta (in lingua inglese per visitatori stranieri)
A seguire incontri personalizzati su richiesta.
La partecipazione alla Giornata Aperta è su prenotazione obbligatoria.
INFO E PRENOTAZIONI
Ufficio Comunicazione
e-mail: comunicazione@unisg.it
tel. 0172 458507-11
English
UNISG will open its doors to prospective students and their families on July 13, 2012
Orientation to the university, and an introduction to the undergraduate and graduate programs, including the two English-language master programs, will be offered on each of the three days.
Staff and faculty will be on hand for one-on-one discussions with visitors, providing information on programs, application processes, student loans and scholarships, and the overall UNISG experience.
Current students will also be available to provide an insider's perspective on university life.
The Open Houses start at 10:00 am on each day, with welcome and check-in in the classrooms of the Cascina Albertina building.
A tour of the facilities will follow, with a presentation of the four programs taking place at 11:00 am in the Aula Magna classroom.
At noon, on request, additional guided tours will be provided (in English, for non-Italian speakers), followed by further one-on-one discussions as needed.Reservations are required to participate in the Open Houses.
To register, please contact the Communications Office (see below).
Location:
Cascina Albertina Building University of Gastronomic Sciences 8, via Amedeo di Savoia – Pollenzo – Bra (CN), 12042
TIMES:
10:00 am: welcome and check-in, guided tours
11:00 am: presentation of programs
12:00 pm: additional tours and one-on-one discussions
INFO & RESERVATIONS:
Communications Office
e-mail comunicazione@unisg.it
tel. +39 0172 458507 – +39 0172 458511
www.unisg.it