Book presentation: "Gastrofascism and Empire: Food in Italian East Africa, 1935-1941" – with Simone Cinotto (author), Ferdinando Fasce – Roberta Pergher (discussants)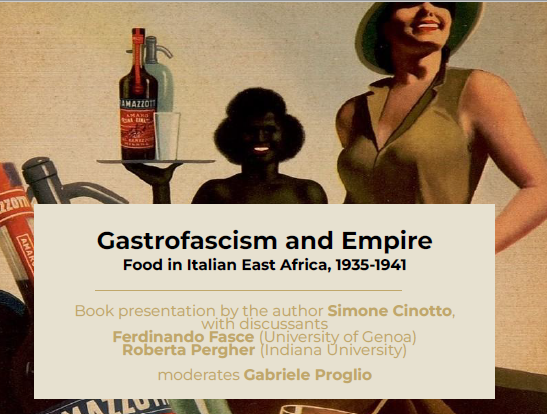 IN ENGLISH

AULA MAGNA
TIME:

5,30pm

 – 

6,30

pm

CFU 0,15
The Italian invasion of Ethiopia in 1935 and 1936 and its transformation into "Italy's granary" was supposed to serve the fascist autarchic project of food sovereignty through the construction of a Food Empire in East Africa, the racial regeneration of the Italians and fascist Italy's entrance into the community of great powers thanks to demographic and geopolitical factors.
Mussolini and his political, agronomical and genetic experts wanted to transfer colonists and the most advanced agrifood technology from Italy to Italian East Africa, replacing Ethiopia's underdeveloped farming and biodiversity with a "rational" agriculture aimed at providing the motherland and global markets with both calorie-rich wheat and "exotic" products like bananas from Somalia and prized Abyssinian coffee.
The construction of an ambitious road network failed to help achieve the objective of transporting millions of Italian farmers to Ethiopia and transferring out copious amounts of food, but it did serve to deliver tons of food imported from Italy to the colonists in Addis Abeba and the other cities and military outposts where they were concentrated. For them, this represented the greatest victory of modernity and social mobility of the entire colonial experience. Attacking the Italian colonial food system therefore became a strategic objective of the Ethiopian resistance, which, armed with its own diet and food sovereignty, carried out a spectacular decolonialization, culminating in the defeat of the imperialist invaders in 1941.
For the entire duration of the occupation, institutionalized fascist racism not only separated public consumption spaces like cafés and restaurants by color but also outlawed the domestic sharing of food as proof of the existence of an emotional/conjugal relationship between an Italian man and an Ethiopian woman. Food exchanges and culinary hybridizations were limited to the margins of colonial spaces and the intersections of the cages created by racial segregation. These food encounters developed in a multisensorial dimension and served as a way of understanding the Other, their food and the overall "sense" of the empire.

We have adapted the organization of Seminars and Conferences in respect of the government health provisions to guarantee strict compliance from all those involved in the academic experience (students, teachers, administrative staff), in an effort to safeguard everyone's safety.