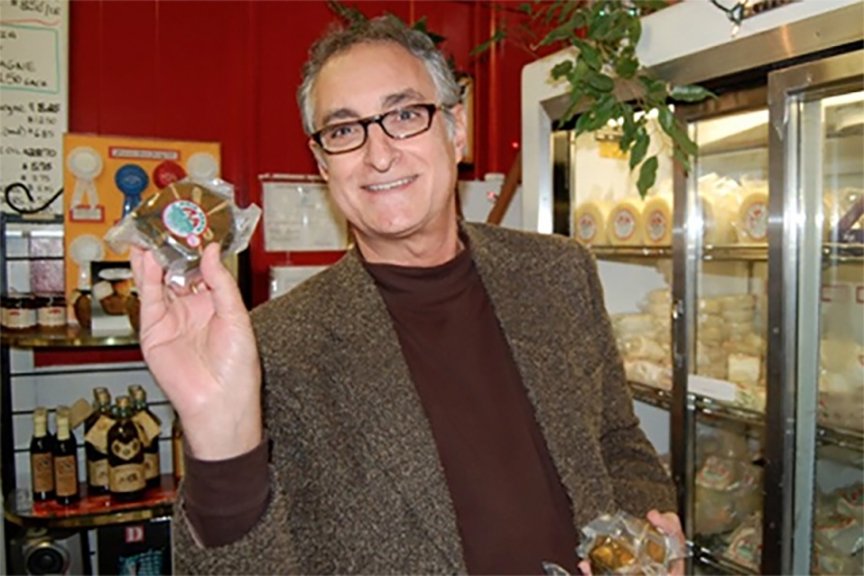 Above: Dallas-based Italian specialist for behemoth wine importer and distributor Southern-Glazer's, Alfonso Cevola is the author of "On the Wine Trail in Italy," one of a handful of English-language blogs focused on Italian viticulture.
One of the topics we covered in my recent seminars on English-Language Wine Writing and Wine Blogging (for the Master's in Italian Wine Culture at UniSG) was, naturally, English-language wine writers and wine blogs that play an important role in Italian wine culture.
Here's a hand list of writers we covered. Please note that this is not an exhaustive list and I have omitted a number of wine blogs and bloggers that we spoke about in class.
Jancis Robinson, JancisRobinson.com
Even though Italian wine isn't her personal focus, it's hard to overestimate the influence of Jancis Robinson, Master of Wine and her subscription portal JancisRobinson.com. She often writes about Italy and has a team of writers who cover tasting notes and news from the peninsula and islands. Subscribers can also access the entire Oxford Companion to Wine and its countless entries devoted to Italian wine, appellations, and grape varieties. As the editor of the Companion, one of the editors of the ampelographic Wine Grapes, the wine critic for the Financial Times, and the author of countless other titles, she's often referred to as "the world's greatest wine writer." The reach of her Twitter is astounding but she always retains a delightfully personal and accessible tone in her social media.
As the wine critic for the Times, Eric covers wines from all over the world. But he's also an unabashed lover of Italy and Italian wines and has traveled extensively in Italy (in his excellent book How to Love Wine, which was also a focus of our course, he reveals that an Italian wine, a Giacomo Conterno Barbera, was one of the first bottles that sparked his interest in wine in general; look out for more on Eric's book in a subsequent post). His Twitter feed is a great way to follow him.
Antonio is arguably the world's greatest English-language expert on the wines of Piedmont and Tuscany and his VinousMedia.com is one of the leading portals for tasting notes, vintage reports, and features on Italian wines and appellations. The Vinous forum is also an important user-generated blog where his readers exchange notes and ideas. Ian D'Agata, one of the world's foremost experts on Italian grape varieties and a top taster and speaker, is also a contributor to the portal. Antonio's presence and following on Twitter only add to his reach as an arbiter of Italian wine today.
We spent a lot of time over the course of our seminars discussing Robert Parker, Jr.'s legacy and monumental influence in shaping wine writing in our lifetime (more on that in a subsequent post).
Since she joined his team, Monica has reshaped the way Italian wine collectors and consumers view Italian viticulture by expanding the portal's editorial horizon. She was the first to include regions besides Piedmont and Tuscany in Parker's vintage ratings table and she has authored countless feature stories and tasting notes on appellations and wines that many English-language readers may have never heard of (like this year's "Italy, Basilicata: Rooting for the Underdog"). Her Instagram is a great way to follow her.
Kerin O'Keefe, Wine Enthusiast
O'Keefe has authored three influential English-language books on Italian wine: One devoted to legacy Montalcino winemaker Franco Biondi Santi; one devoted to Brunello di Montalcino, the appellation; and one devoted to the wines of the Langhe (the latter two for University of California Press). Although not as active on social media as some of her peers, she enjoys a robust following among Italian wine cognoscenti in the U.S. thanks to countless feature stories and tasting notes she has published over the years for major wine-focused mastheads.
Alice Feiring, the Feiring Line
Alice Feiring (who is a good friend of mine) doesn't focus on Italian wine per se. But as the leading advocate for Natural wine active today in the U.S., her travels and her interests often take her to Italy, where the natural wine movement is a major force in shaping the industry's direction. She is a regular presence on the Italian wine scene and her writing has introduced American consumers to countless small-scale Italian producers that may have been otherwise overlooked by mainstream English-language wine writers. Italian wines and winemakers play leading roles in her books on Natural wine and her first book, The Battle for Wine and Love or How I Saved the World from Parkerization, was required reading for our class (more on that in a subsequent post).
Bruce Sanderson and Alison Napjus, Wine Spectator
When it comes to influencing American consumers and their wine shopping (online and in brick-and-mortar stores), the Wine Spectator remains a looming presence in shaping consumers' perceptions of Italian wines. Like Robert Parker's Wine Advocate, Wine Spectator was among the pioneers of modern wine writing and the 100-point scoring system. And the publication of the magazine's "top 100" list is a major event each year for retailers (who use the scores and rankings to help sell their wines) and consumers. Some would say that Bruce, who covers Piedmont and Tuscany (as well as French wines), has a more democratic approach to his scoring and the wines he favors than his controversial predecessor James Suckling. Both he and James are among the Italian wine worlds biggest tastemakers when it comes to Nebbiolo, Sangiovese, and international grape varieties grown in Tuscany. And Bruce's colleague Alison Napjus has done a superb job of expanding the magazine's Italian wine focus to other regions.
Alfonso Cevola, On the Wine Trail in Italy
As an Italian specialist for one of the biggest distributors of fine wine in the U.S., Southern-Glazer's, Cevola can rightly claim that he "touches," as he likes to put it, a sizable number of bottles that are sold in the U.S. today. He's one of only a handful of U.S.-based wine bloggers who focus (nearly) exclusively on Italian wine but his blog is one of the most popular in the U.S. today and his posts are often re-broadcasted by the leading U.S. wine trade blogs. Highly active in the U.S. enoblogosphere and winner of countless peer-based awards for his blogging, his is one of the few examples of long-form blogging still active and relevant today.
As I wrote in the intro to this post, this hand list is by no means exhaustive or comprehensive. And it doesn't include any of the earliest print-media pioneers of Italian wine writing like Sheldon Wasserman, Burton Anderson, Victor Hazan, Nicolas Belfrage, David Lynch, and many other early English-language writers who made their focus Italian. But this list, in my view, is a good place to start in terms of identifying some (just some, mind you!) of the important Italian-focused wine writers active today.