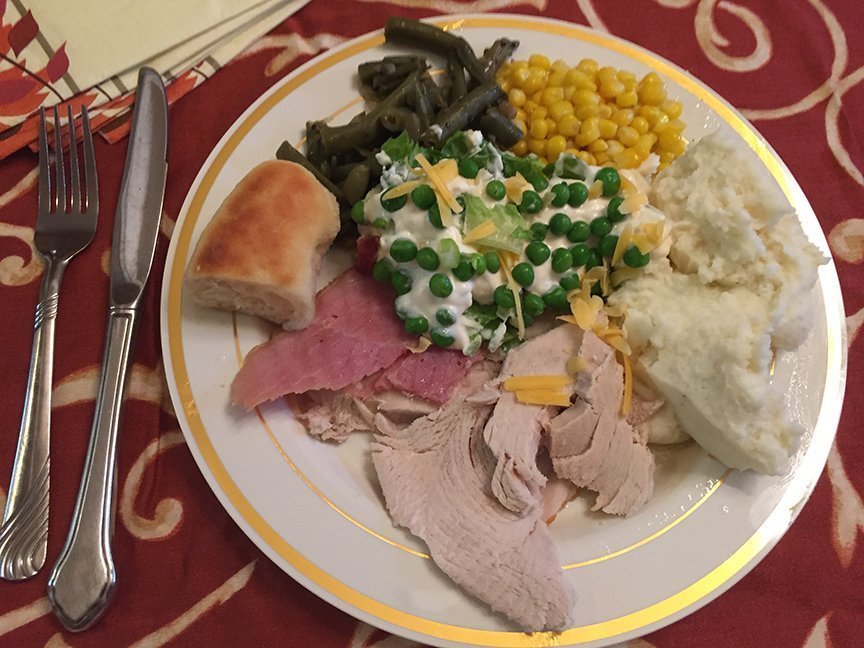 If you're reading this from Italy, the Thanksgiving plate in the image above probably seems pretty exotic to you.
If you're reading this from the U.S., depending on what part of the country you live in, you probably recognize most (maybe not all) of the dishes. Either way, you can immediately identify the plate as a Thanksgiving plate.
It's Thanksgiving week in the U.S., where I returned a few weeks ago after completing my first round of seminars in the Master's in Italian Wine Culture at UniSG.
It's one of those weeks in the U.S. when most people take off from work or even if they do go to work, not much work gets done. It's always a time when Americans wind down a little bit from the crush of fall and this year, it's abundantly clear that we all need take a break (in the wake of Trump's unexpected win, a result that surprised everyone, including the president elect).
As someone who's lived through nearly a half-century of Thanksgivings in America, I've seen a lot of changes in American culture, including food and wine culture.
When I was a kid, nearly everything on our Thanksgiving plate came from a can or from a frozen plastic bag. Today, even my in-laws in southeast Texas have access to the freshest of foods and vegetables. As surprising as that may seem to many Italians, when I first moved to Texas nearly eight years ago and had my first Thanksgiving with my in-laws on the Louisiana border, there was nowhere within a 30-minute radius where they could buy high-quality freshly picked lettuce.
America's "Whole Foods" revolution has really reshaped the American palate and diet in terms of making fresh foods more readily available (Whole Foods was founded in the late 1970s in Austin, Texas, btw, but that's another story for another time).
But what really relates to our scope here in the Master's of Italian Wine Culture program is how Italian wine has become so commonplace at the Thanksgiving table in the U.S.
When I was child, my parents drank coffee throughout the Thanksgiving meal (how American is that!). Today, my 83-year-old mother will take a bottle of Dolcetto d'Alba to my older brother's mother-in-law's place. And that's not just because she's my mother: Sangiovese, Barbera, Nebbiolo, and even Dolcetto are now part of the Thanksgiving culinary lexicon, in part because of their natural food-friendliness but mostly because of how aggressively Italian grape "brands" have been marketed to Americans.
It's a powerful image to think of a bottle of Dolcetto in southern California (where my mom lives) or in southeast Texas where my family still lives next to the Thanksgiving plate. 30 years ago, that was unimaginable. Even 15 years ago, it was improbable. Today, it's highly likely that Italian wine or Italianate wine (like Italian grape varieties grown in California or even Texas) will be served.
And each one of those bottles, in its own little way, contains more than a drop or two of Italian wine culture (and Italian culture, for that matter). And that is an even more powerful image in my mind when I consider that a mere 70 years ago Italian immigrants were considered "undesirables" by most Anglo-Saxon Americans. Food for thought on this Thanksgiving weekend in 2016 in Trump's new America.
Happy Thanksgiving to everyone. Thanks for being here and looking forward to seeing you again next week.
Jeremy Parzen
DoBianchi.com