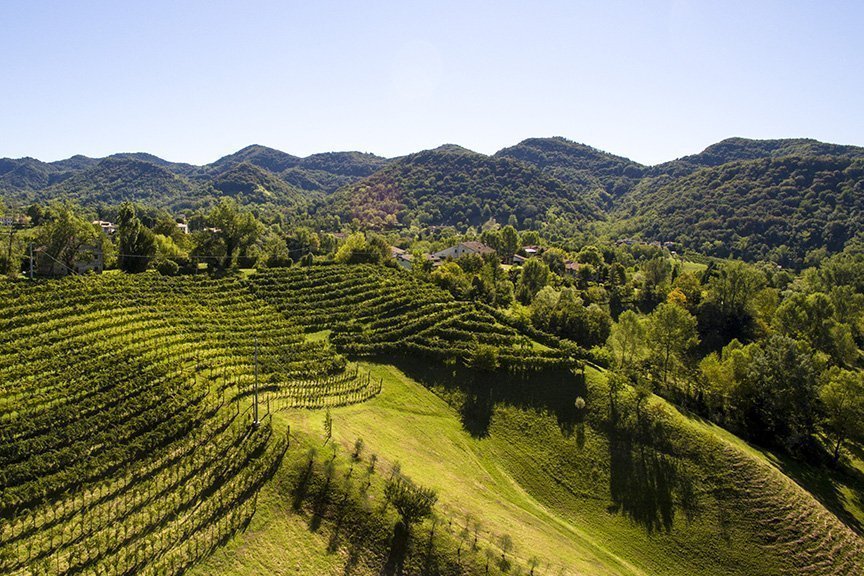 This week, I found myself writing a — how else to put it? — lugubrious post for a client of mine in Prosecco country.
My post was a bullet-point summary and overview of a lengthy Italian-language blog post by an Italian writer who specializes in agricultural journalism and marketing. In his post he countered claims that residents of Treviso province have a higher rate of cancer than in other parts of the Veneto region and Italy because of higher exposure to chemicals used in grape growing.
His post was titled "Bolle contro balle: il Prosecco tra allarmismi e verità dei numeri": "Bubbles vs. Bullshit: Prosecco, alarmism, and truth in numbers."
Late last year, the tabloid-style news show "Report," which is produced by one of Italy's nationalized networks, aired a controversial segment on Prosecco growers and their use of chemical sprays in the vineyards. In the segment, the producers allege that residents of Treviso province are regularly exposed to air-borne pesticides and herbicides because of aggressive spraying by growers. As the market for Prosecco has grown in recent years and more and more farmland has been planted to vine, they claim, cases of cancer have also grown.
Whether or not the claims are true, the show was a textbook example of tabloid journalism. Just have a look at the clip here: Even English-language readers will recognize the hallmarks of the tabloid style.
The episode brought to mind the infamous Velenitaly scandal from 2008. (The epithet Velenitaly is a portmanteau of veleno, meaning poison, and Vinitaly, the annual Italian wine trade fair held in Verona.) A writer for the popular Italian magazine L'Espresso falsely claimed that there was widespread use of toxic and highly dangerous chemicals in the production of Italian wine. His allegations were later proved unfounded.
Because of my personal connection to Prosecco country (I lived and worked there for many years), I have followed the grassroots campaign to raise awareness of pesticide and herbicide use in Treviso province for many years now. I subscribe, for example, to Gianluigi Salvador's email newsletter: He is a World Wide Fund for Nature delegate in the Veneto and he writes regularly about environmental degradation in the province.
From personal experience over many years, I've seen the Prosecco landscape change radically as the demand for Prosecco throughout the world has grown significantly (when I first traveled in Prosecco country playing music in the late 1980s, few in America knew what Prosecco was; today it is ubiquitous in my country). There's no doubt that there is something wrong when people are liberally spraying vineyards that lie adjacent to schools and homes (I've seen that, too). But I have yet to see anyone who has hard data to support the claim that there is a higher incidence of cancer in the province because of increased spraying and use of pesticides and herbicides.
By no means am I an expert in the field and I'm not saying that there isn't a correlation (my gut tells me that there is).
The one thing I know for sure is that "tabloid wine writing" is probably the saddest form of oenography. And it's one of the topics I'll be covering in my seminars later this year at UniSG in the Master's in Wine Culture program.