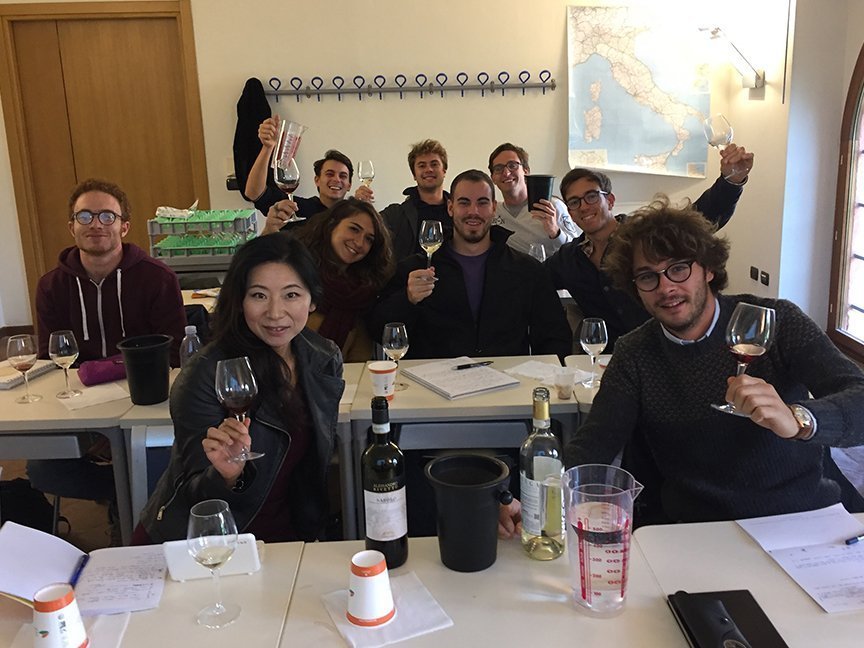 What a thrill for me to lead my first seminar on the UniSG campus this morning! My first seminar in the Master's in Italian Wine Culture program seemed to fly by as the students and I discussed the power of social media in marketing wine; the subjective and self-referential nature of wine writing and wine blogging; and pioneering wine blogs and taste-makers who have shaped the enoblogosphere as we know it today.
Topics ranged from Gertrude Stein and her Autobiography of Alice B. Toklas (the ultimate self-referential novel) to Roland Barthes and the notion of [wine] Writing Degree Zero (and so much more in between).
And as an experiment and exercise, we also tasted two wines, a white and a red, first blind and then with the labels revealed. As we reviewed our notes, we discussed how wine writing can span the sensorial and the cultural and how most wine writing lands somewhere in the middle of that spectrum.
We also looked at three different descriptions of the same wine: The winery's fact sheet; a score and tasting note; and a highly lyrical tasting note. Again, here, we looked at how wine writing can fall anywhere in between the purely technical to the nearly idiolectal (the most extreme form of self-referential wine writing).
It was a great morning, spent in the company of highly talented, motivated, and simpatico people.
After class, we all headed together to the campus cafeteria were the culinary theme of the day was Indian cuisine. And after lunch and coffee, we all gathered outside in the sunshine where the students asked me questions about life in Texas and America and shared their own impressions from their travels there (even in Texas, where one student told me he had the best steak he had ever tasted!).
One thing that is super cool about the Master's in Italian Wine Culture program is that the group (11 students) is very close and shares all of their lunchtime meals together. Honestly, I've never seen a class of graduate students who were so in-tune with each other (usually it's the opposite). The camaraderie and solidarity were as refreshing as they were inspiring.
A great first day on campus and looking forward to tomorrow's seminar!