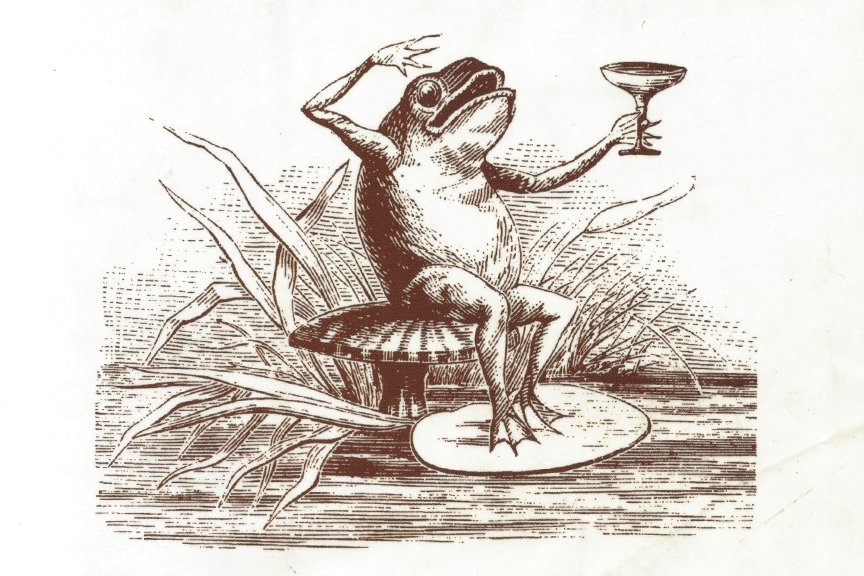 As I gear up to teach my class in the UNISG Master in Italian Wine Culture this fall, I wanted to give a preview of some of the topics and reading materials we'll be covering and discussing (the etching of the wine-loving toad above comes from one of the books on our reading list, The Accidental Connoisseur by Lawrence Osborne).
The overarching theme of my seminars is how wine blogging, social media, and user-generated content fundamentally reshaped the way wine is marketed in English-language markets and the way it is perceived by consumers and tradespeople.
Before the advent of the "enoblogosphere" — i.e., the subset of blogging that relates to and portrays the world of winemaking, wine marketing, wine consumption, and wine connoisseurship — enography (wine writing) was a unidirectional, trickle-down media. In a pre-wine blogging world, only a handful of "wine critics" wrote about wines, the people who made them, and the places where they were made.
But when social media users (and bloggers in particular) began to embrace wine and winemaking as a favorite subject, a sea change occurred: For the first time in history, winemakers and wine marketers had a platform where they could amplify their previously silent voice.
"Social media have dramatically changed how information about wine is disseminated," wrote Elaine Brown in the entry for "social media" in the most recent edition of the Oxford Companion to Wine, the first time an entry for social media has appeared in this encyclopedic work. "Traditional media outlets still share information but have greatly decreased in number, leading to fewer permanent wine columns and paid wine-writing positions. Increasingly, wine experts and consumers alike share wine information and opinion via social media channels such as Facebook, Twitter, Instagram, and wine blogs (see information technology)."
But even more relevant to our discussion and my point, "one of the effects of social media on wine criticism has been a general democratizing of authority, dispersing it broadly across online networks. Consumers increasingly turn to social media for information, thus relying less on expert authority, and more on crowd-sourced information. Prior to social media, influential information was concentrated around industrial media sources and established wine writers."
I'll have a lot more to say about social media and how it's changed the nature of wine writing and perceptions of wine in our seminars. But this is a great place to start the conversation.
Please stay tuned and thanks for being here!
Jeremy Parzen
DoBianchi.com