From the 4th-6th of March 2017, Milano Congressi in Milan hosted the event "Identità Milano – The International Chef Congress" by Identità Golose, which over the years has established a good reputation for itself and is now an important meeting point for the food world, especially the Italian one. Italy's most important chefs and international guests talked about their personal experiences and thoughts related to this year's theme "The Power of Freedom – Travel."
Spectacular dishes were presented, new techniques displayed and actual trends discussed. Few words connected most of the presentations: Sustainability, respect for the raw material and the producer, as well as seasonality. Undoubtedly, the overall movement in the alta cucina seems to be a very benevolent one and could eventually have a positive effect on the "normal" consumer, casual restaurants and the environment.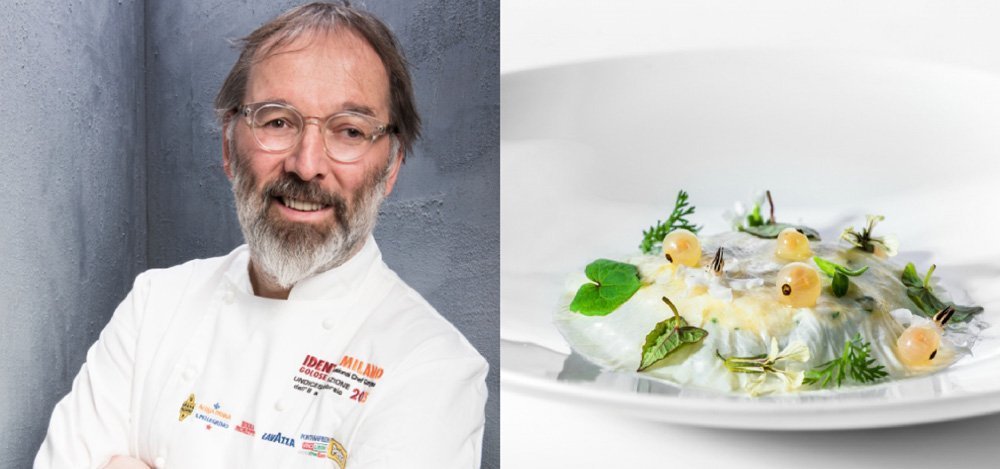 chef Norbert Niederkofler – ® Identità Golose
On one side, the respect for the raw materials used and even more for their producers was emphasised by every single chef presenting his/her dish on stage. Norbert Niederkofler (St. Hubertus**) underlined that this kind of respect involves knowing the producers, their context and their issues, see how the products are made and especially when they are made. Seasonality is a basic concept in his philosophy "Cook The Mountain," as he uses only in-season products from the mountains. In addition, this forces him to be more flexible, studying ancient traditional preservation techniques and using every part of the product, even the ones of lower value, thus reducing food waste substantially. Regarding meat, Norbert commented: "if everybody would start using less prestigious animal parts instead of always serving filet and roast beef cuts, less animals would be needed." One major issue for him is the law, which prohibits certain preservation methods for safety reasons and the vast use of plastic bags for conservation, as there are no other suitable replacements for now.
chef Christian Puglisi – ® Identità Golose
On the other side, Christian Puglisi (Relae*) set an admirable example by making all of his restaurants in Copenhagen certified organic. His project may be considered unique but could also be inspiring not only for young aspiring chefs. Adding to his restaurants, bars and bakery he produces cheese, his own vegetables and meat on his farm. "We don't want to be self-sufficient, but I like to use my knowledge as a chef who is confronted with different agricultural-artisanal realities to create something different and hopefully better."
Furthermore, still talking about sustainability, the question about its definition arises: What is a sustainable restaurant? It is a relative, not absolute term that is to be used with caution: The environment in which a restaurant is set has to be analysed and checked for its needs and problems before taking any actions in order make it "sustainable." It is a sum of many little things, little steps which have to be taken and most importantly, every single one of us has to reflect about this personally, without looking too much at others.
To sum up, these were only two examples of ideas found during Identità Milano 2017 and many more ones that are similar would deserve to be quoted. However, a chef has nowadays a broader audience than ever. His role has become a public one, with a strong and respected voice: If all these ideas about respect for the environment, the product and the producer reach broader audiences, they could have a considerable impact on consumers' behaviour in every-day life – an important step towards a healthier future planet Earth.
by Phlipp Oggiano
All interviews conducted the 05th of March .2017 by Philipp Oggiano and Leonardo Rocca, UNISG students.