Food Industry Monitor
The performance of Italian companies of the food and beverage sector
---
Main branch of study: Innovation
Name of project: Food Industry Monitor. Osservatorio sulle performance delle aziende italiane del settore food & beverage
Reference Lectures: Michele Fino and Carmine Garzia
Project Coordinator: Francesco Maria Gentile
Main Partner: Ceresio Investors
Supporters: Fondazione Cariplo e Fondazione CRC
---
Project Overview
Food Industry Monitor is the observatory on the Italian food & beverage sector that analyzes the performance of 835 companies operating in 15 sectors. The sample represents about 71% of the companies operating in the F&B market.
The research analyzes:
the performance of companies in the food industry
the performance of companies in the food industry;
medium-term growth and profitability prospects;
the determinants of operating profitability, productivity and growth;
the characteristics of companies' business models;
the link between business models and economic and competitive performance
Edition 2022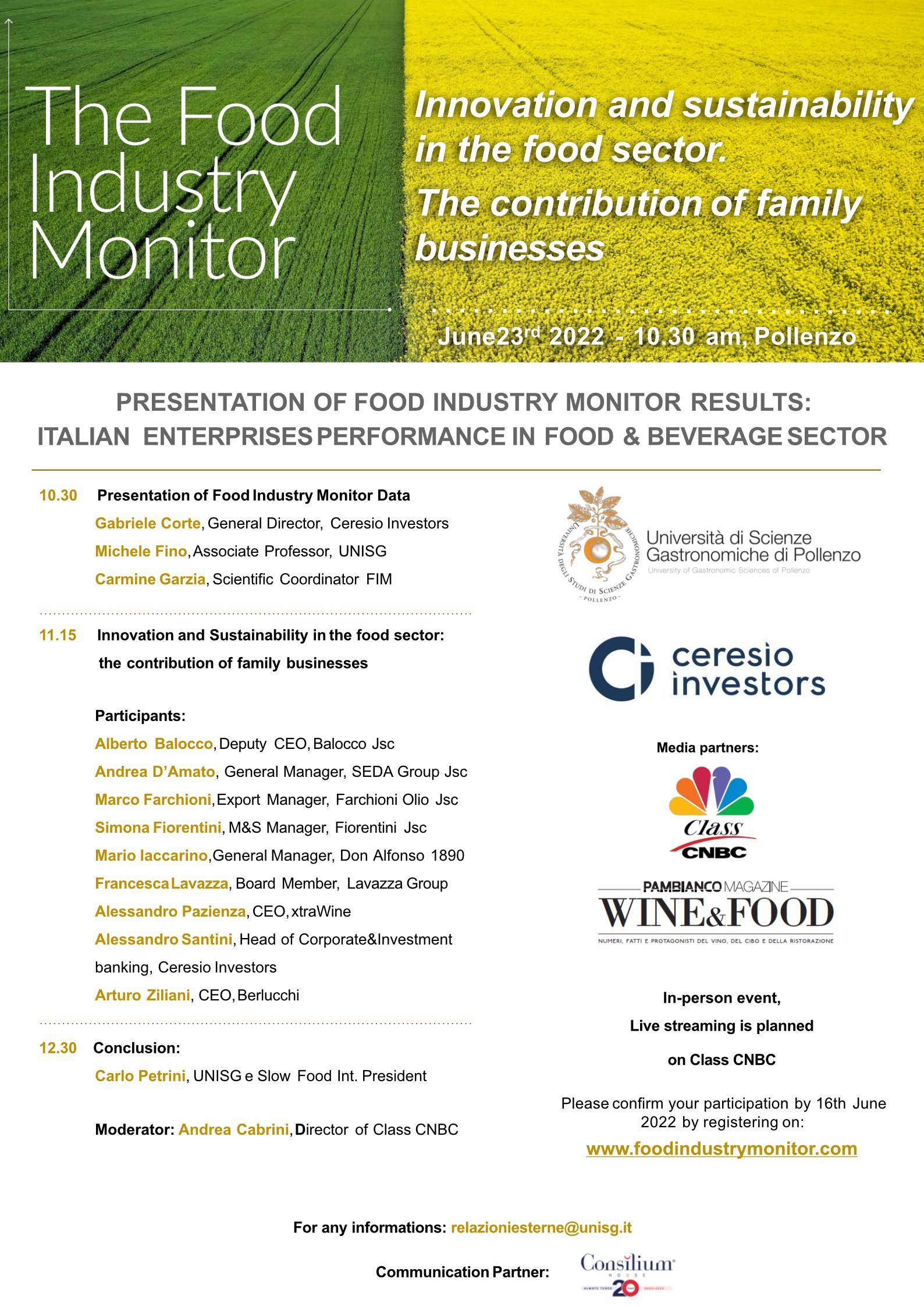 The eighth edition of the observatory is dedicated to sustainability and innovation on family-ran by companies. The results will be presented in Pollenzo in a conference on June 23, 2022 (a live streaming is also planned).
Analyzed segments
Mineral waters;
Beer;
Coffee;
Preserved foods;
Spirits;
Confectionery and bakery products;
Flours;
Food equipment: machineries and tools for food and beverage production;
Packaging: made up of bioplastics, plastic, aluminium and carboard;
Milk and dairy products;
Oils and fats;
Fresh and dried Pasta;
Meat products;
Frozen food;
Wine: cooperatives, integrated producers, trader and producers of Spumante and Prosecco.
For more information on past and future conferences and to download annual public reports visit the website: foodindustrymonitor.com
---
Support the Food Industry Monitor